M A I N N E W S

The Last Word


J. Craig Venter


The man who wants to play God
Ashish Kumar Sen in Washington DC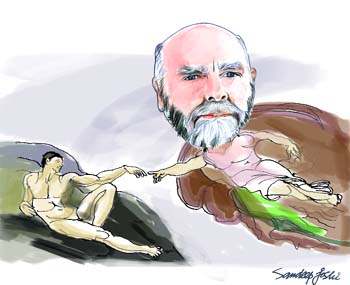 Maverick is a word often associated with J. Craig Venter. The scientist who last month claimed to have created 'artificial life in the lab' is a high school dropout but is possibly the richest scientist in the world. The Vietnam War veteran, who tried to commit suicide when he was barely 21, returned home in the United States of America to blaze through University and was soon hailed as a brilliant biologist.
He is said to have told his brother that while a doctor may save a couple of hundred lives during his working life, a researcher may save the world ! After unsuccessfully trying to save the life of soldiers in Vietnam, he made 'saving the world' his mission. His life had to make a difference to others.
The 63-year old 'showman of science', who has never been accused of false modesty, is like a red rag to the scientific establishment. When the US government funded Human Genome Project took off, Venter claimed that with private capital he would do the job faster and cheaper. He described 'official' scientists on the job as 'The Liars' Club' and announced that he would not only complete the project ahead of the official group, he would also go ahead and patent it. It took an intervention by Bill Clinton to persuaded him to share the credit.
Soon thereafter, asked how it felt to have deciphered human life, his one-word reply was, "Poorer". Venter had made no secret of his ambition to become the first 'billionnaire biochemist' of the world !
Wired magazine described him as a "maverick biologist who a few years ago raced the U.S. government to sequence the human genetic code." The Washington Post said: "Either he is one of this era's most electrifying scientists, or he's one of the most maddening." Time magazine went a step further, once describing him as "the enfant terrible of the gene hunters."
Venter and his team of researchers electrified the scientific world last month by announcing that they had created the first self-replicating, synthetic bacterial cell. It was a quest scientists at the J. Craig Venter Institute had been working on for over a decade.
Venter, according to his autobiography, "A Life Decoded," did poorly in school, scoring Cs and Ds in the eighth grade. He enlisted in the United States Navy and served a tour of duty during the Vietnam War. While in Vietnam, he attempted to commit suicide by swimming out to sea, but changed his mind more than a mile out. On his return from Vietnam, Venter raced through a bachelor's degree in biochemistry and a Ph.D. in physiology and pharmacology from the University of California, San Diego. As a researcher at the National Institute of Health, he pioneered a technical shortcut that sped up the decoding of genes. In 1995 Venter became the first to sequence a whole bacterial genome, decoding the DNA of a pneumonia microbe, H. influenzae. He was the head of Celera, a private research company that won the race with the National Institute of Health's Human Genome Project to sequence the human genome.
Venter has been featured twice on Time magazine's list of the world's 100 most influential people. His work on DNA sequencing and later on the synthetic genome earned him these honours. "So many accomplishments coming so quickly have evoked a range of emotions in Venter's fellow scientists. There has been almost universal admiration, even a touch of envy, but there are people who regard his entrepreneurialism and reported egotism as suspect," Time magazine noted last year.
After sequencing the human genome, Venter and his team were looking for the next important project and decided on doing work that could have important positive implications on the environment. "We were also interested in understanding the most basic components of life and what the minimal genes were needed to sustain life," Venter told The Tribune.
He said it was "satisfying" to reach this point in the research. "However, we have said this is a small step and a proof of concept. There will now be more work to understand the minimal components of life and how we can use the research and technologies we developed to create useful products such as vaccines and new bio-fuels," he said.
Venter is confident his team's achievement will have a "profound and positive impact on society in that it will enable a better understanding of the fundamentals of biology and of how life works." He believes it will lead to new techniques and tools for advanced vaccine and pharmaceutical development, and will continue to enable the development of new bio-fuels and biochemicals. "These technologies could be used to produce clean water, new sources of food, textiles, human and veterinary drugs, bioremediation techniques," he said.
It is evident that the team of cerebral scientists has a playful side. The researchers designed and inserted into the genome what they called "watermarks." These watermarks use the "alphabet" of genes and proteins that enable the researcher to spell out words and phrases.
The watermarks are an essential means to prove that the genome is synthetic and not native, and to identify the laboratory of origin, according to JCVI. Encoded in the watermarks is a new DNA code for writing words, sentences and numbers. In addition to the new code there is a Web address to send e-mails to if you can successfully decode the new code, the names of 46 authors and other key contributors and three quotations:
To Live, To Err, To fall, To triumph, To recreate Life out of Life : James Joyce
See things not as they are, but as they might be : A quote from the book, "American Prometheus
What I cannot build, I cannot understand : Richard Feynman
Best-selling author Robin Cook, writing in Time magazine's Top 100 list edition last year, said of Venter, "I think he should be rewarded for his bold thinking, ethical sensitivity and creativity. The life of the scientist should be one of imagination and joy-and in his case, it is."
But Venter also has his share of critics.In an unflattering review of his autobiography, Nature magazine noted, "[The] media has called Venter many things: maverick, publicity hound, risk-taker, brash, controversial, genius, manic, rebellious, visionary, arrogant, feisty, determined, provocative. His autobiography shows that they are all justified."
Some accuse him of playing God. Julian Savulescu, professor of practical ethics at Oxford University, told the Guardian newspaper: "Venter is creaking open the most profound door in humanity's history, potentially peeking into its destiny. He is not merely copying life artificially ... or modifying it radically by genetic engineering. He is going towards the role of a God: creating artificial life that could never have existed naturally."Others worry that such synthetic cells, if accidentally released into nature, could cause environmental havoc and worse, if in the hands of rogue scientists, could be developed into biological weapons. In 2008, JCVI received funding from the Alfred P. Sloan Foundation to examine such ethical and societal concerns that are associated with the developing science of synthetic genomics.
Venter admits these are "important questions and ones that we have asked since the beginning of the first questions and experiment in this area."