ART & LITERATURE
'ART & SOUL
ENTERTAINMENT
TELEVISION
GARDEN LIFE
NATURE
FOOD TALK
CONSUMERS, BEWARE!
FASHION
GLOBOSCOPE
BRIDGE
ULTA-PULTA
EARLIER FEATURE
TRAVEL
RELATIONSHIPS
DREAM THEME
TIME OFF

Beyond being bais
An innovative initiative of grooming women as home managers could be an example in places where private agencies, providing household help, are exploitative or not up to the mark, writes Usha Rai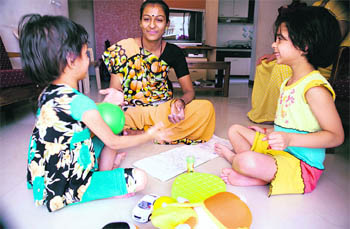 Rattanbehen Kanti Desai (30) looks after the double-storey home of senior citizens Rajendra and Manjula Dhaga in the more affluent area of Ahmedabad. She is no ordinary domestic help. She is a home manager, a title that she wears with pride, having been put through a monthís rigorous training by the Urmila Home Manager programme of the NGO Saath, which, in collaboration with the America India Foundation, provides skilled manpower for different sectors of the fast growing urban economy of Gujarat.
Simple school in the hills
The school in Shaya village of Himachal Pradesh provides quality education to over 200 children. They are given a nourishing meal everyday. The dropout rate is nil, writes Bulbul Sharma
The small school with a gleaming slate roof, nestling amongst the hills of Shaya in Himachal Pradesh, begins every day sharp at 10. Yet many of the students have already gathered in the playing ground long before the bell rings for the school. raspberries.
Letís keep our soldiers happy
The bravery of Indian soldiers is legendary. The government needs to redress their grievances with alacrity, says Lieut-Gen Baljit Singh (retd)
When the evolution of the concept of nation states got perfected in Europe in the 19th century, the conscripted armed levies were, as a rule, replaced by standing armies. The British were quick to exploit this new lethal instrument of governance to consolidate their overseas colonies into an "empire over which the sun never sets."
Amazing Angkor
The temples of Angkor are simply unique, a stunning blend of spirituality and symmetry, writes Ranjita Biswas
Sometimes an image is carried by memory, ensconced somewhere in its deep recesses, and then one day, suddenly, incredibly, it comes alive ó not in an abstract form but in concrete shape.
Art survives recession
With prices still way below what were prevailing before the economic downturn, collectors and investors are doing some serious bottom-fishing, bringing back colour in art, writes Nagmani
For artists it was a culture shock of the personal kind when the art world was struck at its heart by the all-pervasive recession. Works of well-known artists saw a dramatic downturn.
"I donít know how to make a film"
In a conversation with Dibyojyoti Baksi, Mani Ratnam reveals that every time he starts working on a new film, he has to struggle to find the right way to can the shots
He has been making movies for almost three decades and is known as a maverick. But Mani Ratnam says every time he starts working on a new film, he has to struggle to find the right way to can the shots.
Thereís method in his acting
Ranjan Das Gupta chats up master actor Dilip Kumar, whose biography written by Saira Bano, is all set for release soon
Lagi Nahin Chhoote Ram" Dilip Kumar still sings, note by note, this haunting number from his film Musafir (1957). At his Pali Hill residence, Dilip Kumar is in a contemplative mood.