Beyond being bais
An innovative initiative of grooming women as home managers could be an example in places where private agencies, providing household help, are exploitative or not up to the mark, writes Usha Rai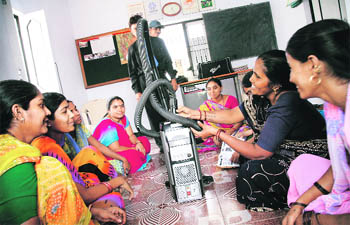 Apart from brushing up their culinary skills, home managers are trained to use gadgets like food processors, toasters and vacuum cleaners
Rattanbehen Kanti Desai (30) looks after the double-storey home of senior citizens Rajendra and Manjula Dhaga in the more affluent area of Ahmedabad. She is no ordinary domestic help. She is a home manager, a title that she wears with pride, having been put through a month's rigorous training by the Urmila Home Manager programme of the NGO Saath, which, in collaboration with the America India Foundation, provides skilled manpower for different sectors of the fast growing urban economy of Gujarat.
In the one month of training, for which she paid Rs 500, she was taught first aid as well as fighting emergencies like a fire. She brushed up her culinary skills as well as the use of gadgets like food processors, toasters, washing machines and vacuum cleaners. Care of the elderly is another area that she has honed her skills in. As a qualified and certified home manager, at the end of her training, she is given a kit which has two saris, a watch and a tiffin box. Every morning, she comes to work wearing a fresh clean sari and carries her lunch or snacks for the day in the tiffin box. The watch ensures punctuality at work. The home manager and the clients recruiting them enter into a contract, wherein the hours of work as well as the responsibilities are spelt out. For eight hours of work, the home managers earn Rs 3000.There has been such a positive response to the programme that it is to be expanded to the other big cities of Gujarat.


Metros need home managers
Delhi, Mumbai and the other metros need home managers because both husband and wife are out at work, and the services provided by the employment agencies have too many flaws. A large number of senior citizens live on their own, with their children staying away from them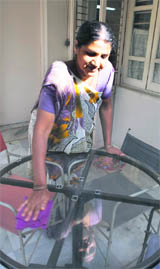 For eight hours of work, the home managers earn around Rs 3000
Like Rattanbehen, 250 other needy women have been recruited, trained and placed in jobs as home managers in Ahmedabad. Fifty persons have registered and are waiting for home managers. While Rattanbehen required no special qualification`85. just a keenness to improve her earning capacity, there is a growing number of marginalised, young people, many of whom have failed or just scraped through their school board examinations, who are acquiring special skills required for the new economy under the Market Aligned Skills Training (MAST) programme. Seeing the tremendous value of MAST, even the Gujarat government is taking up ownership of the project. Like the AIF, it chips in with the Rs 4500 needed to provide skills and place young people in the work force.
Hanumant Rawat, AIF's director of the livelihood programme, says, "There is a demand for skilled people from the manufacturing and service sector. Each sector requires different skills, especially in areas like telecommunication where there is competition." Despite a lot of talk on vocational education, there is little alignment with the demands of the industry for skilled workers. In fact, the market demand is for 10 million such people per year, but the current supply of skilled workers is just 2.5 million per year. So, while there is tremendous growth in the economy with BPOs and malls demanding trained staff to man their counters, whether it is Big Bazaar, Pantaloons, Coffee Caf`E9 Day, Reliance Fresh or the large number of hospitals and nursing homes that are woefully short of nurses and care givers, quite clearly a vast majority of the Indian youth are unemployable.
Some 45,000 persons have been trained under the MAST programme, says Tarun Vij, country head of AIF's India office. Seventyfive per cent of those trained have been placed in jobs. Skill development can make a difference to the lives of the youth disadvantaged by the lack of access to educational facilities, poverty, and migration, among other factors. All girls and boys who have passed Class VIII are eligible for this skill training and pay Rs 500 for the three-month course, although per candidate the training cost is nine times more.
MAST begins with a systematic scan of the local market to identify industries, businesses and services that have a shortage of skilled workers. This is followed by a robust community outreach effort to enroll trainees. Skill training curricula is then developed and customised to train young people for jobs in these industries. With skills and confidence to access entry-level jobs in the high-growth service industries, young people are improving their standards of living and building on the financial security of their families. Rattanbehen is among the large number of upwardly mobile poor people of Ahmedabad and her USP is home management.
While Rattanbehen has status, a secure five-hour job and is earning Rs 2500 every month, more than she ever did as she scampered from house to house for odd jobs that fetched her just Rs 600 and Rs 700, Manjula has found a trustworthy person in the trained home manager. She is able to relax, confident in her home manager's skills. Earlier, there were a stream of domestic helps and she had to constantly follow them around, ensuring that the dust was swept from every nook and corner and her
gadgets used judiciously.
Rattenbehen has a two-year-old daughter and is nine months pregnant. She will be on two months' maternity leave and hopes to find a job closer to her home after the baby. Instead of working for five hours, she will work for just three hours so that she can take care of her newborn. Once the child is older, she will be back to a full day of work as a home manager.
Manjula is not happy to lose her but understands her predicament. "I will compensate her for the work she has put in and hopefully she will return when the baby is older," she says. The Urmila Home Manager Programme (UHMP) will provide a substitute manager for Manjula. In fact, the programme provides for replacement should the employer or the employee not find the arrangement satisfactory. "We allow for up to three replacements because we cannot assume that the employer is always right," says Usha, the manager of the UHMP. Usha, too, worked as a home manager before taking on her present responsibilities as a manager of the programme.
Most of the home managers are recruited from the slum areas on the outskirts of East Ahmedabad and provide services for those living in the posh areas in the western part of the city. Usha visits the slums and recruits those wanting to improve their skills and their 'employability.' Pamphlets are distributed and the women come to the centre to fill forms, pay up and get trained. It was Rattanbehen's sister who told her about the Saath recruitment drive for home managers. The only problem is the long commute from her home to those seeking the home manager services, which is why she may have to look for a job closer home after her baby.
The money and status as a home manager has made a great difference to Rattanbehen's life. She is earning as much as her husband, a security guard. There is respect and support at home and less friction with her husband. "I have a status now," she says with pride. The salaries of the home managers vary from Rs 2000 to Rs 3000, depending on the hours of work they put in and jobs undertaken. The home managers can take leave when they want, but have to inform their employer as well as Urmila Home Management so that a substitute is provided for the days they are absent.
Delhi, Mumbai and the other metros, too, need home managers because both husband and wife are out at work and the services provided by the employment agencies have too many flaws. A large number of senior citizens live on their own with their children having migrated.
For the Dhagas, who are in their early seventies and have their two sons living in other cities, having a dependable home manager has made life easier. While Mr Dhaga, a retired Air Force officer, runs a coaching centre for students of Classes IX and XI, Manjula, with signs of arthritis, found negotiating the stairs of her home, basement and two floors, a problem.