Thereís method in his acting
Ranjan Das Gupta chats up master actor Dilip Kumar, whose biography
written by Saira Bano, is all set for release soon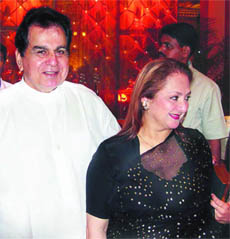 Dilip Kumar and Saira Bano
Lagi Nahin Chhoote Ram" Dilip Kumar still sings, note by note, this haunting number from his film Musafir (1957). At his Pali Hill residence, Dilip Kumar is in a contemplative mood.`A0His biography by wife Saira Banu and journalist, Uday Tara Nair, is complete. A smiling Dilip Kumar recalls, "Salil Chowdhury was adamant that I should sing "Lagi Nahin Chhoote Ram" with Lata Mangeshkar. I was very nervous but Salil encouraged me to sing. The final song was recorded in just three takes. After the recording, Salil embraced me and told me that I could really sing well."
Many such rare incidents and anecdotes from the thespianís life have been carefully put in the book. Dilip Kumar elaborates, "My childhood, youth at Peshawar, education, the saga of cruelty during the Partition, and my entire acting career has been covered extensively in this biography."
The actor, who is the idol of many top filmstars like Amitabh Bachchan, Aamir Khan and Shah Rukh Khan, does not consider himself a great actor. "You consider me the last word in acting?" he smiles. "In a nation which has seen great actors like Ashok Kumar, Motilal, Balraj Sahni, Uttam Kumar and Sivaji Ganeshan, I am certainly not the greatest actor. I consider myself just competent."
Even Satyajit Ray nicknamed Dilip Kumar the ultimate method actor, who has influenced the maximum number of actors in the following generations. That Dilip Kumar believed in quality and not quantity is evident from the fact that he has only 62 films to his credit in an illustrious career spanning almost seven decades. Adds Dilip Kumar, "I had the rare opportunity of working with the leading women of my time like Meena Kumari, Nargis, Suchitra Sen, Nimmi, Vyjayantimala and Waheeda Rehman. Among them, Meena Kumari and Nimmi were the best in emotions. Suchitra Sen was the most versatile of the lot, followed by Nargis.
"Vyjayantimala and Waheeda Rehman are superb actresses and dancers. My favourite directors include Amiya Chakrabarty, Nitin Bose, Bimal Roy, Zia Sarhadi, Mehboob Khan, K. Asif and, last but not the least, Tapan Sinha. They all understood my full depth as an actor and extracted the best out of me."
What about his romantic link-ups? The name of Dilip Kumar, the most eligible bachelor from the 1940s to mid-1960s, was linked with a number of leading actors of his time like Kamini Kaushal, Madhubala and Vyjayantimala. He smiles, pauses for a while, and says, "My romances are known to everyone of my generation and they do find place in my biography with dignity and respect."
Dilip Kumar was Indian cinemaís most eligible bachelor till he married beauty queen Saira Banu. The thespian, who is in a romantic mood, renders his all-time favourite hit, "Aye Mere Dil Kahin Aur Chal" from Daag. He smiles and answers, "You know why I sang this number? Our sweetest songs are those that tell of saddest thoughts." He recites P.B. Shelly with perfection.
For Dilip Kumar, who has eight golden jubilees to his credit, finds it hard to name a film which he considers his best. He thinks for a while and answers, "Very difficult to name one. Andaaz, Daag, Footpath, Devdas, Mughal-E-Azam, Ganga Jumna and Sagina Mahato are my personal favourites. I consider Paari an offbeat venture. In this film, I used body language in a way none of my other films demanded. Any work on me is incomplete without a mention of my illustrious colleagues, Raj and Dev. Today, there are very few talented actors. After Amitabh Bachchan, the icon of the past four decades, I have noticed a lot of potential in Aamir Khan and Hrithik Roshan. I feel a golden actor like Tabu has been totally wasted by this film industry." The thespian ends his conversation with an optimistic view of the future for Indian cinema.