M A I N N E W S
Can't silence Hafiz: Pak
'Freedom of expression in Pak as in India'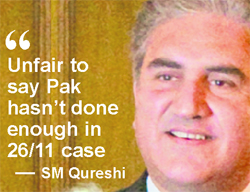 Islamabad, June 27
Pakistan has virtually ruled out barring Jamaat-ud Dawa chief Hafiz Saeed, mastermind of the Mumbai terror attack, from making inflammatory speeches targeting India.
"In a democracy, there is freedom of expression in Pakistan as in India. There are all sorts of people making all kinds of speeches. There are people with extremist views in both India and Pakistan and there is nothing you can do about it. There are views being expressed in Pakistan that I can do nothing about," Pakistan Foreign Minister Shah Mehmood Qureshi told reporters here.
He, however, said the "positive" thing was that the views of extremist elements did not reflect that of the majority opinion, either in India or in Pakistan. "The overwhelming majority of people do not agree with hate speeches. They want normalisation, they want peace, they want growth, they want development," he said.
He termed as "presumptuous" India's contention that enough was not being done in the Mumbai attacks case, saying the two countries would understand "each other's challenges and difficulties" only through engagement.
In an interview, he pressed for a common approach to deal with terrorism and promised to take action against any handler of 26/11, insisting that Islamabad would not sleep over leads forwarded to it.
The pace was slow because of "complications" arising from the fact that the crime was committed in a different country and exchange of information was a "cumbersome" process, he said.
He said India and Pakistan should work together to send out a message to the terrorists that they could not "drive a wedge" between the two countries.
"If you say Pakistan has not moved, it will be unfair," Qureshi said when pointed to India's refrain that enough had not been done by Islamabad in investigating the 26/11 case and bringing to book all those behind the carnage. "Do not question our sincerity. We want to move on because terrorism is hitting us as well," he said.
India has been complaining that Pakistan is not taking action against Mumbai attack mastermind and JuD chief Hafiz Saeed and several other identified handlers continue to be at large. When referred to this, Qureshi said, "This is being presumptuous. You are presuming because we are not talking. You are presuming because we are not in contact." He said when the two sides "sit, meet and talk, these presumptions will disappear and the reality will surface. When the reality surfaces, we will be able to understand each other's challenges and difficulties".
On India's warning that any repeat of Mumbai attacks would lend a serious setback to the bilateral ties, Qureshi said such statements amounted to giving handle to terrorists to dictate the agenda. "We feel, by making such statements, you (India) are playing in the hands of those who want to scuttle (improvement in relations). The minute you say that, terrorists feel they control the agenda," he said. — PTI