M A I N N E W S
Govt unveils new code for safe tourism
Vibha Sharma
Tribune News Service
New Delhi, July 1
The long-awaited code of conduct for safe and honourable tourism was finally released here today by the Union Tourism Minister Kumari Selja.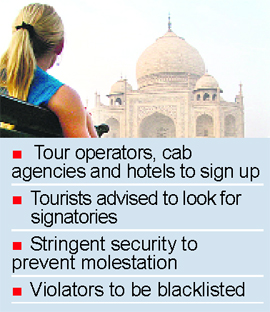 Coming ahead of the Commonwealth Games, the code has been developed in association with PATA India Chapter, Save the Children - India, United Nations Office on Drugs & Crimes (UNODC) and Equitable Tourism Option (EQUATIONS) and aims at checking exploitation of visitors and also local residents to prevent sex tourism besides ensuring safety to tourists, particularly women.
Reports suggest that in the past two years more than 126 foreign tourists died in Goa alone, with nearly 60 per cent from unnatural causes.
On June 26, two Dutch women on a world tour alleged that they had been raped and robbed of their money and passports by two men posing as tourist guides. Just three days later a 27-year-old Brazilian national, who had arrived in India earlier this month, alleged that she has been raped twice by her landlord.
This incident, coming after Dutch women alleged that they were terrorised and raped by two Kashmiri men for about two months, once again raised the question of safety and security of foreign nationals.
India's performance in tourism sector has been quite impressive. During 2002 to 2009, India witnessed as increase in the Foreign Tourist Arrivals (FTAs) from 2.38 million to 5.11 million while Foreign Exchange Earnings (FEEs) from tourism increased from 15,064 crore in 2002 to 54,960 crore in 2009. Goa alone witnesses a footfall of around five lakh tourists every year.
Tourism Secretary Sujit Banerjee said the code has been evolved to ensure that tourism activities are undertaken with respect for basic rights like dignity, safety and freedom from exploitation of both tourist and local residents. It will be adopted by major stakeholders like hotels, tour operators, cab drivers and other hospitality-linked services.
While it is not a legally binding instrument and merely a set of guidelines, any signatory found acting in a manner that undermines the safety of persons outlined in this code can be blacklisted. An advisory will also be issued to foreign tourists to book only into hotels and use services of only those operators who adhere to the code.
Meanwhile, Selja assured that her ministry was working closely with the law enforcing agencies to ensure that tourists were safe. "We have to create a situation where women tourists feel safe," she said.
"Tourism industry stake-holders have to help agencies in strengthening the law enforcing mechanism not only for the Commonwealth Games, but also after it. Such incidents are bad for the country," she said.