PUNJAB
HARYANA
JAMMU & KASHMIR
HIMACHAL
REGIONAL BRIEFS
NATION
OPINIONS
LETTERS
BUSINESS
SPORTS
WORLD
M A I N N E W S
Top Maoist leader shot dead in AP
Azad carried Rs 12-lakh reward on his head
Suresh Dharur
Tribune News Service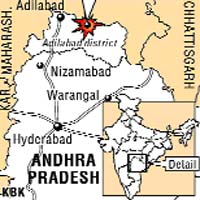 Who was Azad?
Azad, a post-graduate engineer, was a spokesman of the CPI (Maoist) central committee and considered a close confidant of Maoist chief Muppala Laxman Rao, alias Ganapathi. He was in charge of a guerrilla zone comprising Maoist stronghold areas in Kerala, Karnataka and Tamil Nadu.
Hardcore Naxalite held
Jehanabad (Bihar), July 2
A hardcore Naxalite was today arrested by special task force (STF) personnel from Rustampur village in Jehanabad district, a senior police official said. Praduman Sharma, alias Kundanji,was a member of the Naxalite outfit MCCíS Bihar regional committee. ó PTI
Hyderabad, July 2
In a major setback to the Maoist movement, its top leader and Politburo member Cherukuri Rajkumar, alias Azad, was killed in an encounter in the Jogapur forest area on the Andhra Pradesh-Maharashtra border today.
Azad was involved in 16 cases, including several attacks targeting high-profile politicians. He was also one of the accused in the botched assassination attempts on former Chief Ministers N Chandrababu Naidu and M Janardhan Reddy. He was also believed to have masterminded the killing of Congress MLA Narsa Reddy and 10 others in August, 2005, that prompted the government to re-impose ban on the Maoist outfit.
Another Maoist, whose identity is yet to be established, also died in the gunfight near Sarkepalli village in Adilabad district. While the police said the two Maoists were killed after a fierce exchange of fire with a police party, the civil rights organisations dubbed it as a fake encounter and demanded a CBI probe into the episode.
According to Adilabad SP Pramod Kumar, the gunfight took place in the forest area, about 15 km from the Maharashtra border, for four hours. About 20 Naxalites were involved in the incident. None of the policemen was injured in the exchange of fire. The police seized an AK-47 rifle and two pistols from the spot.However, the CPI (Maoist) and its sympathisers claimed the police had picked up Azad from Nagpur a few days ago and eliminated him in a fake encounter.
Maoist sympathiser and revolutionary writer Varavara Rao has filed a petition in the high court demanding the registration of a criminal case against the policemen involved in the incident. He, in his petition, has demanded that the bodies of the slain Naxalites be brought to Hyderabad for a post-mortem examination at Osmania General Hospital. Azadís killing came two days after the Maoist ambush in Chhattisgarh that claimed lives of 27 CRPF personnel. He had recently written to social activist Swami Agnivesh, offering conditional peace talks with the government.
The police fear that Maoists may resort to retaliatory attacks following Azadís death. The encounter has cast a shadow over Telangana region where byelections are scheduled to be held for 12 Assembly seats on July 27. The backward Telangana region was once a stronghold of Naxalites. The police has sounded high alert across the state, particularly in Telangana.