TELEPROMPT
Now, a youthful Star Plus
Mannika Chopra

IT is one of the golden rules of marketing. If the goods are not selling, rebrand them. TV has picked up the cue. Entertainment channel Star Plus, business channel Bloomberg TV, and news channel INX are in various stages of makeovers. Not that the goods werenít selling. For most of the last decade, Star Plus was the channel on top. But over the years, it decided that it wanted redefine itself, moving away from its saas bahu persona with its ramped up weepiness, which, while it lasted, was so successful that the term earned it a permanent place in the nationís lexicon.
But times are changing, and so is Star Plus, apparently. From familiarly frumpy, it has become fashionable. It is as if the channel has undergone a crash course of botox injections. Certainly, visually there is a noticeable change. The network has younger feel to it. It sounds more energetic and, I fear, I need to use that dreaded word, happening. Is it the overplay of the colour red (now all missing from the hair of all the protagonists) in its montages, or is it the new catchline rishte wahi, soch nai? Donít know, canít say.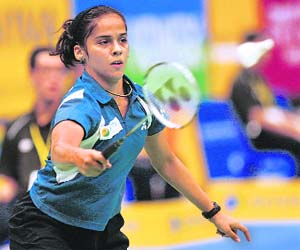 In a week of sporting distractions ó FIFA football mania and Wimbledon ó Indiaís badminton champion Saina Nehwal did not get her due
Photo: Reuters
Akshay Kumar, to be launched in kitchen reality show Master Chef, will definitely balloon the channelís younger audience to Indiaís genuine man of action. And as for the soaps, well, believe it or not, heroines are not dripping jewellery from their henna-coloured hair down to their toes. At least on the surface, they look normal and real. Even the story lines sound almost plausible.
Sample Chand Chhupa Badal Mein, which kicked off this week. Set in Shimla, a young sweet thing, Nivedita, with a heart of gold, is what the matrimonial ads would label homely and comely, with a whitish complexion. She is pitted against the more pampered and glamorous, treadmill-stepping cousin, who although different at last in episode one, is not really a bad egg. But when a potential suitor comes calling, I suspect he will fall in love with the lass who loves frolicking lambs and her family in equal measure.
We see shades of Cinderella and that ancient film Love in Simla here. For all that retro coolness formula and despite the sugary sentimentality and swooning music, the series has potential, and could work. What doesnít work is Javed Akhtar as a sutradhar. Seeing the lyricist introducing and concluding each programme with cheesy one-liners, a la Ashok Kumar, in the days of Hum Log on Doordarshan, is painful. Almost as painful as the embellished purple kurta he is wearing. I have only two words. But why?
In a week of endearing sporting distractions ó FIFA football mania and Wimbledon ó you could not help but notice that Indiaís badminton champion Saina Nehwal, now ranked number three, did not get her due. In the regular sports segment, she was swamped by football, but even in the general news line-up, the rising fortunes of the badminton star made you want to say yeh di mange more stories on her achievement. What is particularly galling is that had the same accolade been given to a cricketer or even a failed tennis star whose name begins with S, there would have been wall-to-wall coverage.
I am not sure why channels tend to have some blinkers on as far as some sports are concerned. Also missing was the breaking news on the death of former Minister of State for External Affairs Digvijay Singh. In fact, I caught the news, courtesy some idle surfing, only on ETV Bihar as it broke. The national channels kept him off the screen for quite a while. I guess you have to be a Congress or BJP politician who has stubbed his toe to make it to news national channels. Is that why Star News thought it appropriate to do 12 minutes on Sanjay Gandhi, who had died 30 years ago?
While on Star News, evidently hunting for a news anchor is channelís contribution to contemporary TV culture. I am not really sure why some one thought it was necessary to come up with this idea on a news channel. It brings down the tone of news and journalism; and, yes, even the network. If the channel thought this was a way to be more interactive with its viewers, it failed. I would rather opt for the excellent series, Citizen Journalism, that CNN-IBN is running.