PUNJAB
HARYANA
JAMMU & KASHMIR
HIMACHAL
REGIONAL BRIEFS
NATION
OPINIONS
LETTERS
BUSINESS
SPORTS
WORLD
Sunday, July 4, 2010, Chandigarh, India
Updated at 3:00 am (IST)

Delhi airport goes swanky
n IGIA now world's eighth-largest
n Terminal 3 built at cost of Rs 10,000 cr
n First flight to take off on July 14
n Can handle 34m passengers a year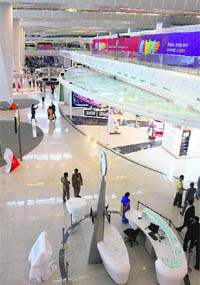 New Delhi, July 3
Prime Minister Manmohan Singh today said that an airport is often the first introduction to a country. And sure enough, with the gleaming new terminal at the Indira Gandhi International Airport, India has truly arrived on the world scene.


Nation page: Need to align policies with aviation industry's needs: PM

Mumbai in need of another airport: Patel
The newly constructed Terminal 3 at IGIA in New Delhi. — Reuters
CAST YOUR VOTE
Should Warren Anderson be extradited?

EDUCATION
JOBS & CAREERS
HEALTH & FITNESS
SCIENCE & TECHNOLOGY
REAL ESTATE

SPORTS & WELLNESS
Special To The Tribune
India asks Naipaul to prove his origin
Hell hath no fury like a Nobel Laureate scorned and Sir Vidiadhar Surajprasad Naipaul is no exception. The world-famous and Trinidad-born 78-year-old writer, considered one of the masters of English writing, won the Nobel Prize for



Sir VS Naipaul with wife Nadira

Literature in 2001. He was feted and applauded across the globe, especially in India -- his ancestral home -- where there was considerable satisfaction that another exceptional Indian after Rabindranath Tagore had finally won the coveted award.
Fuel tanker explosion kills over 230 in Congo
Kinshasa, July 3
More than 230 persons were killed when a fuel tanker overturned and exploded in eastern Democratic Republic of Congo, unleashing a fireball that tore through a town where people were watching the Football World Cup tie on TV. Officials said today that the explosion late on Friday also injured 110 persons, adding that the death toll could rise.
UNION BUDGET 2010-11
RAILWAY BUDGET
2010-11
NDA 60 Glorious Years
1857 The First Challenge
E - Revolution 2005:
A Two-day IT conclave
Assembly Elections - 2005
Turbans
Chandigarh is 50
125 Years of The Tribune
India: The Tasks Ahead
India at Sixty
A Tribune Supplement
EARLIER FEATURES
On Sundays
On Saturdays
Modi's exit from BCCI almost certain
Board ratifies charges; Scindia in probe panel after Manohar backs out
Mumbai, July 3
Lalit Modi's expulsion from the BCCI appeared almost certain today with a Special General Meeting unanimously ratifying all charges against him and authorising board president Shashank Manohar to initiate civil and criminal proceedings against the suspended IPL chief.


Germans boot out Maradona's men




Adios, Argentina:

Germany's Miroslav Klose celebrates after scoring his side's second goal during the World Cup quarterfinal match against Argentina in Cape Town on Saturday. Germany won 4-0. — AP/PTI





Results

Uruguay beat Ghana 4-2 (pen.)
Germany beat Argentina 4-0

A 2006 repeat

Germany outplayed their rivals by showcasing their characteristic football of hard-running, relentless chase, fast attacks and clinical finishing. For Argentina, this was their second loss in the quarterfinals in two successive World Cups to Germany that won on penalties in 2006.



Klose's ton

Germany striker Miroslav Klose made his 100th international appearance on Saturday. The 32-year-old, who has netted 50 goals for Germany, has also scored 12 World Cup goals in three editions to level Pele and is three behind top scorer Ronaldo on 15.
Top Maoist leader shot dead in AP
July 3, 2010
Centre to J&K : Crack whip on stone pelters
July 2, 2010
PC sees Lashkar hand in Valley
July 1, 2010
Diesel prices to be decontrolled: PM
June 30, 2010
India, Canada sign N-pact
June 29, 2010
Can't silence Hafiz: Pak
June 28, 2010
India, Pak take a leap of faith
June 27, 2010
A big hole in your pocket
June 26, 2010
Cordiality returns
June 25, 2010
India to talk tough with Pak
June 24, 2010