M A I N N E W S
Delhi airport goes swanky
n IGIA now world's eighth-largest
n Terminal 3 built at cost of Rs 10,000 cr
n First flight to take off on July 14
n Can handle 34m passengers a year
Vibha Sharma
Tribune News Service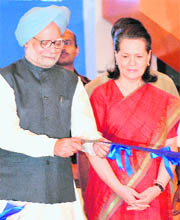 Prime Minister Manmohan Singh with Congress president Sonia Gandhi at the inauguration.
New Delhi, July 3
Prime Minister Manmohan Singh today said that an airport is often the first introduction to a country. And sure enough, with the gleaming new terminal at the Indira Gandhi International Airport, India has truly arrived on the world scene.
Christened T3, the shiny steel and glass terminal has all the ingredients to make a very impressive first impression on visitors and is reflective of the modern, industrialised country with an expanding economy that India today is. It will integrate domestic and international operations to handle 34 million passengers annually. All set to redefine air travel, the first flight from the plush terminal will be launched on July 14.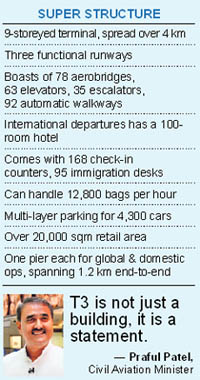 Completed in a record 37 months, T3 is spread over a mind-boggling 5.4 million square feet. The nine-level building has come up at a cost of approximately Rs 10,000 crore with the involvement of 54 government departments and the GMR group-backed developer, Delhi International Airport Ltd (DIAL). With this, the IGIA has become the eighth-largest airport in the country. A whopping 90 per cent of entire passenger movement at the airport will be at T3.
Besides three functional runways, T3 has 168 check-in counters, 95 immigration counters, 78 aerobridges, 14 baggage conveyer belts, 97 travelators or automated walkways as passengers may have to cover at least 1.2 km from one end of the vast building to the other. Other facilities include a much-required multi-level air-conditioned car park, first of its kind in the country, that will accommodate 4,300 cars. T3 will also have metro connectivity with Connaught Place.
At the flick of a button, check-in counters will be switched from one airline to the other. In other words, the same counter can be used by a domestic airline in the morning and an international one in the evening.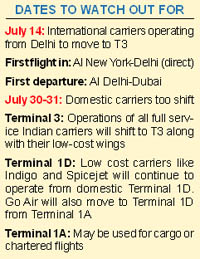 Comfortable lounges, nap and shower rooms done up tastefully in the colours of India add to passenger comfort. The new building is facing some power problems but these will be taken care of by the time T3 receives its first flight.
Another interesting feature is a 100-room transit hotel in the international departure area. The area has lounges on the first floor, airline offices on the second and the hotel on the third. There is a mix of restaurants, bars, cafes and fast food outlets in the 21,500 sqm of commercial space. Not just this, the gleaming T3 is barrier-free to suit requirements of passengers with special needs or reduced mobility.
And, as Civil Aviation Minister Praful Patel said: "T3 is not just a building, it is a statement." He said the cost to build the T3 was higher than estimated, but people should not mind paying the special airport usage fee and toll tax.