Compelling visual narratives
Review by Rachna Singh
Class Power and Consciousness in Indian
Cinema and Television
By Anirudh Deshpande.
Primus Books. Pages 169. Rs 549.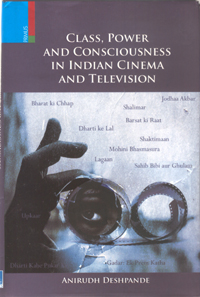 NO one can dispute the fact that visual narratives wield an inherent power over the viewers, so much so that characters like Pratigya or the Sethi sisters in tele-soaps become a part of our day-to-day existence. 'Rancho' of The 3 Idiots or 'Indu' of Rajneeti become the flavour of the season. Even micro-narratives like commercials influence the market forces in an economy.
Anirudh Deshpande goes a step ahead in his book and lays down the premise that deconstruction of visual media like cinema and television is essential to the understanding of contemporary Indian society. The averment that images in visual narratives are not only instrumental in the representation of the Indian identity but also harbingers of this Indian consciousness is not far from the truth. This is reinforced by the 1980s movement from a "developmental secularism" to "Hinduvata" which engendered a "religious exclusivism" inspired as well as represented by Ramanand Sagar's Ramayana. Deshpande attributes the centrality of 'Ram' in political discourses and the Ramjanambhoomi agitation to the power of such visual narratives.
There is also an attempt to wrest the "monopoly over the past" from the historians. The purported argument is that cinema not only defines and constructs identities through "historicals" like Razia Sultana or Jodha Akbar but also through depictions of society as in Do Beegha Zamin or Mother India.
Deshpande also attempts to link Hindi cinema to bourgeois hegemony in India. The argument taken is that "Hindi cinema serves the interest of the highly patriarchal Indian ruling classes". To prove this argument, Deshpande discusses the changing depiction of the Muslim minority in cinema. So, in the secularism propagating 1960s and 1970s, the Muslim socials included cultivated Hindustanis who were feudal but mushiara-loving and were essentially non-political. Films on the identity crisis of this minority were non-existent—Garam Hawa and Nikaah were exceptions to the rule. In keeping with the changing political discourses of the 1990s and the 21st century, the visual narratives show the appearance of terrorists from this minority. Fanaa and Qurbaan have enlarged the ambit of the definition of Islamic terrorism and brought in the "urbane playboy terrorist", thus hinting at the consequential social ostracism of the Muslim minority in Indian society.
Thus, the book not only emphasises visual power but also weaves together strands of history and visual narratives and in doing so, prods the reader into questioning his complacent so-called secular modernist nationalism. However, there are some unsubstantiated generalities in the latter part of the book. For instance, Deshpande's rather cryptic summing up that "Bollywood production teams swear by secularism albeit their films promote communalism" jars and knocks down the apparently objective reasoning applied to the study. The analysis of Haqeeqat as a "tribute to middle-class colonisation of South Asia" engenders a similar reaction.