Tales of treaties
Humra Quraishi
Author of The Tryst Betrayed, former diplomat Jagat S. Mehta talks of wars and writings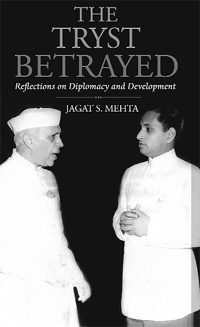 Eightynine-year-old Jagat S. Mehta is, perhaps, India's senior- most diplomat, who joined the Indian Foreign Service in 1947. During a career spanning several decades, he was charge d'affaires in China between 1963-66, launched the Foreign Ministry's policy planning division in 1966, was high commissioner to Tanzania between 1970-74, become Foreign Secretary in 1976, a post he held till 1979.
He led the ministry's negotiations on many issues of critical importance, including the Sino-Indian boundary question (1960), the financial compensation for Indians expelled from Uganda (1975), the comprehensive normalisation of India-Pakistan relations (1976), the Salal Hydel project in Kashmir (1976), securing the withdrawal of the Farakka item from the UN (1976), the Farakka Agreement with Bangladesh (1977), the Separate Trade and Transit Treaties with Nepal (1978) and preventing the militarisation of Pakistan after the Saur Revolution in Afghanistan (1978).
Mehta is the author of Militarisation in the Third World (1985); The March of Folly in Afghanistan (2002); Negotiating for India (2006); and Rescuing the Future (2008). His latest volume, The Tryst Betrayed (Penguin), was released earlier this year.
Excerpts from an interview:
Comment on the dismal and disappointing performance of SAARC ? Also, as a diplomat, how do you see the developments in the subcontinent with a focus on India's`A0relations with the neighbouring countries ? Does India play`A0the big brother's role?
SAARC was born in 1984 through the shared feeling among the neighbours about India's propensity towards hegemonism. The suspicion was both right and wrong, but it had to be detected and assuaged as they, too, were sovereign. We hesitated when SAARC was launched and did not turn it to our advantage.
We did not stick to our original statement of September, 1946, that we will be non-aligned. This implied neither being pro nor anti-USA or USSR; each issue being judged on merits. The Cold War and its ideology over-trumped decolonisation. We feared a nuclear war.... non-alignment became an instrument of blackmail: presuming on economic aid from the West and politically tilting towards the Soviet Union. After 1953, we took the Cold War too seriously. It was a total fallacy after nuclear weapons. `A0Finally, Gorbachev and Reagan acknowledged as much in 1986. Nehru, in my view, should have been the first to project d`E9tente in 1963 itself, after instructing that India should have been the first to sign the Partial Test Ban Treaty. `A0But he was shattered by the 1962 China attack.
The challenge of the 20th century, unlike previous centuries, is that the relationship between large countries and small ones is not based only on size and military power: People are empowered as never before. Except temporary successes, Indian diplomacy failed in neighbouring countries, barring Bhutan.
Comment on the Government of India's very obvious tilt towards the US and Israel ? Also, if`A0Pandit Jawaharlal Nehru`A0was still at the helm of affairs, would this tilt`A0in our foreign`A0policy have come about?
I never served in West Asia and so I am no expert. I remember when Truman recognised Israel in 1948 and that may have led to the end of the two-state solution. The Arabs have also made mistakes. For example, not promptly accepting the resolution of 1967. War must be avoided. The domestic politics of the US plays a nefarious part. Obama is trying his best and should be supported
Do you see Indo-Pak relations improving or getting worse? Also, to what extent`A0is America playing a role in this particular sphere?
In the long run, neither India nor Pakistan can thrive on hostility towards each other. Meanwhile, there are inherited problems: diplomacy must not add to these difficulties. Farakka would not have been conceived if Bangladesh had come into existence in 1960 or earlier, instead of 1971. America is still trying to buy influence with the Pakistan army and the establishment, but this old ally has now got unpopular with the Pakistan people. Sooner or later, it will have to be reduced to a functional relationship. The conditioning from the Cold War must end. The Pakistan army must stop looking upon India as enemy No.1. The real enemy is domestic, for both India and Pakistan. The Naxalites and Taliban demand social justice.
How much of political interference is there in the MEA?
I have been retired for 30 years and, therefore, cannot comment on the political interference in the MEA. In my time, I had ready access to the Prime Ministers (Indira Gandhi, Morarji Desai) and Foreign Ministers (Y.B. Chawan, specially A.B. Vajpayee). I do not recall being overruled by the PMO.
Do you see the ouster of Shashi Tharoor as rather unfortunate and lopsided? After`A0all, no other political heads rolled in the IPL fiasco?
I live in Udaipur, and am not in a position to have any inside information.
A majority of retired diplomats make New Delhi their base, but you decided to`A0settle down in Udaipur post-retirement. Why?
While I cannot comment on the rationale of other diplomats, I feel that whatever experience one has gathered, should be channelised around one's hometown and district.
Looking back, do you regret that you wife had to quit the IFS because of the then prevailing clause that a couple could`A0not be part of the IFS. Also, comment on the other noticeable changes you feel have crept into the service over time.
My late wife certainly regretted having been compelled to resign from the IFS, but she had a full life. She was interested in academics and sociology, and wrote hundreds of articles, including regularly for The Tribune and Hindustan Times, and six books. She left a lasting impact on many friends and her children.
On the personal front, two of your three children have married Muslims. Comment, especially in the context of the communal atmosphere prevailing in the various states of the country.
It is true that two of my children married Muslims but it was their own choice. I welcome their spouses and the spontaneous affection/love of their children. What is significant is that my daughter maintains very affectionate relations with all my cousins. Udaipur is their home. Whenever the grandchildren come (which may be three times a year), they never feel as strangers. For me, it is an example of being proud of one's roots.
I'm told you and our children run a trust. Tell us more about it and also, can an average and apolitical citizen do his or her bit to improve the ground realities.
In 25 years, I have been President of the Seva Mandir, Vidya Bhawan Society, Dr Mohan Sinha Mehta Memorial Trust, Zheel Sanrakshan Samiti, Theosophical Society and other such local bodies. This, plus writing some books and articles, fills my time and gives me satisfaction and supplements my constructive achievements.