Tête-à-Tête
The dream within
Nonika Singh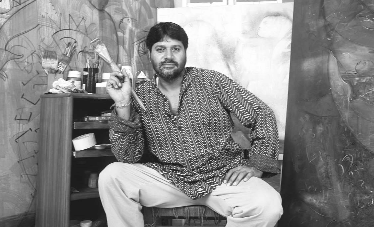 Sufism is the central theme of Chandigarh-based artist Madan Lal's works

Make no mistake; he lets his works do the talking. Gentle, reticent and self-effacing, Chandigarh-based gifted artist Madan Lal once even spoke through his poetry. But today, it's his poetic images, at once evocative, lyrical, vibrant and redolent with multi-layered meaning, which communicate to viewers. As he puts it "rang udde han bina khamab de, rang bolde han bina shabdan de."(Colours fly without wings and speak without words).
Of course, the thread of Sufism that was immanent in his poetry makes a strong presence on his canvasses too. The central figure in many of sd paintings with head bowed in submission is almost akin to a Sufi figure. The influence of Sufism is easily explained. Back to childhood years—growing up in village Talwandi Bhai in Ferozepur district, barely 35 km away from Kasur, the land of mystic poet Bulle Shah, he recalls, "The air itself was pregnant with Sufi flavour."
Indeed, the village boy in him, who once soaked sufi poetry and watched the expanse of sky and vast fields with awe and wonder, is very much alive and largely defines his imagery. The metaphors that lace his compositions, he reveals, have their roots in these formative years. The calligraphy symbols that he uses generously in his paintings are an offshoot of the school years when he would write on a takhti.
Interestingly, unlike other artists, Madan's foray began with the abstract idiom. The turning point came in 2005, when he felt that his feelings were not finding a complete expression through his works. As he moved over to the figurative form, suddenly the canvasses were lit with a luminosity and meditative joy in a burst of sublime exuberance. His colour palette drenched in vibrant colours began to rejoice and critics wondered aloud—isn't pain, too, a part of life and hence art? Once more the sufi wisdom that he believes focuses on the spirit of chad di kalan and has little room for negativity defines his thinking. The nature that he gets to see in City Beautiful in all its resplendent glory is another constant companion that decides his rainbow choice of colours.
More recently, however, he confesses that the urban milieu, too, has began to pervade his art. Not as definitive symbols but evident in more concrete well-delineated figures of bulls and cows or by way of calculations, "for isn't the urban world more materialistic and calculating?" But as his paintings find avid buyers across the country, he has no issues with art becoming business. Rather he says, "The whole notion of art as an investment has ensured that the works will not go waste but get collected and preserved." So, he is happier to sell his works to an art collector rather than an average buyer, for "only when art changes hands its real value is established."
But one urban influence (or fad?) he has stirred away from is — digital art and installations. Even though he specialised in the applied art from Government College of Art, Chandigarh, he finds real exhilaration in the intimate feel of brush and colours. "Digital art", he feels "is more of an idea. However, painting is truly an aesthetic experience that allows you to dig into your subconscious, memories and much more." The spontaneous art of drawing remains his muse, too. With thousands of drawings in his repertory he does rue that drawing by itself is still not accepted as a complete genre.
But, mind you, he who paints in the wee hours of the morning like riyaaz and for whom the creative process is deep rumination doesn't create with eyes on the market. Nor is he tempted to repeat his signature even when it sells well. He says, "After painting a few canvases on the same theme, I have an urge to move on." But then, art for Madan "is a journey both outward and inward that cannot remain static."
So, how does the simple village boy looks at his odyssey… more so when he goes about exhibiting his works at prestigious galleries like the Jehangir Art Gallery, Mumbai, Triveni Kala Sangam and Habitat Centre, New Delhi, Vinnyasa Premier Art Galley, Chennai, and Nehru Centre, London? Madan whose work has been selected for 52nd National Exhibition of Art, Kolkata, just shakes his head, "There is no sense of having arrived anywhere or having made it. As a child, I dreamt of becoming an artist. Today, I am happy that I have become part of the dream." Living his dream, his art has the same captivating and elusive quality, otherwise steeped in real-life experiences.