Food talk
Quick-fix meal
Pushpesh Pant




Pushpesh Pant
Although one likes to gorge on water-filled squash vegetables in summer and usually stays faithful to salads and light, thin gravies, there are times that the meat tooth begins to tingle. This one is for those occasions. If you like to stay vegetarian, this recipe works equally well with tofu or paneer.
The inspiration was provided by our intrepid Minister for Environment Jairam Ramesh, who has done more than most to give currency to the term Chindian. The spicing for this quick-fix nutritious delight is shared half and half by both India and China. Try this out with different types of paneer/tofu or boneless chunks of chicken. Add a dash of green chutney for appeal or sprinkle a couple of tablespoons of pomegranate seeds and enjoy a light delightful meal.
Chindian Nayaab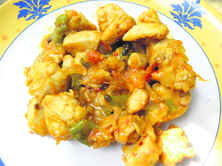 Ingredients
Tofu/paneer/boneless chicken 300 g
Hung or thick curd 50 ml
Garlic-ginger paste 1 tsp
Light soya sauce 1 tsp
Sweet chilli sauce 1 tbsp
Garam masala (made from
1/4 tsp each of powdered cloves,
cinnamon, cardamom and mace) 1 tsp
Oil 1 tbsp
Green chilli (shredded) one
Salt to taste
Method
Wash and pat dry the chicken (if using). Cut tofu or paneer into cubes. Make a marinade with hung curd, garlic and ginger pastes. Apply this to tofu/paneer or chicken. Keep aside for 30 minutes. Heat oil in a frying pan. Add tofu/paneer or chicken, along with the marinade and salt. Reduce heat to medium. Stir in soya and chilli sauces. Cook tofu or paneer uncovered and the chicken covered for about 10 minutes or till done to taste. Sprinkle over the aromatic garam masala and shredded chilli. Serve with phulka or parantha. You can also try it on a bed of steamed rice and some greens. We on the subcontinent combine rice with gravies but farther East, the grain is happily married to 'dry' partners.