ART & LITERATURE
'ART & SOUL
ENTERTAINMENT
TELEVISION
GARDEN LIFE
NATURE
FOOD TALK
CONSUMERS, BEWARE!
FASHION
GLOBOSCOPE
BRIDGE
ULTA-PULTA
EARLIER FEATURE
TRAVEL
RELATIONSHIPS
DREAM THEME
TIME OFF
Brush with boldness
The GenNext of women artists wields a confident and adventurous brush when it comes to expressing the art of the current century, writes Nirupama Dutt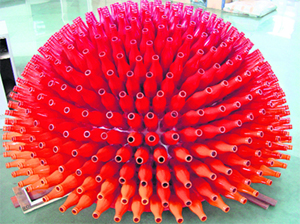 Let me begin by saying that I object to the term Ďwoman artist.í I am an artist. Also, I do not see myself as a crusader because of the time one has been born in. I certainly feel that the times are different and each artist has her/his own respective journey to make and experiences to learn from,í says Sheila Makhijani, one of the serious painters of the new millennium.
Anjum Singh uses painted soft-drink bottles to make flowers with petals of plastic to indicate the Ďcola bloomí

Anne Boleyn
the drama queen
Appealing both to adolescents and ageing romantics, there is a fast-growing cult of Anne Boleyn, the Tudor queen, who was convicted of adultery, incest and treason, writes Howard Brenton
Every year on May 19, flowers are delivered to the Tower of London. Queen Anne Boleyn, Henry VIIIís second wife, was executed on that day in 1536. The flowers have been arriving for 40 years and no one knows who sends these. These are put on the floor of the small chapel of St Peter ad Vincula, beneath which Anneís body ó and head ó are buried in a wooden chest, without a plaque or stone.
Pillars of strength
Mahisura village in West Bengalís Nadia district was under water during the recent floods. Voluntary groups ó all headed by women ó of several villages have now joined hands to tackle the problem, writes Soma Mitra
It has been almost a decade, and Pramila Das (38) still cannot get over the pain of losing her daughter, who was just two-and-a-half years old. The mother is in tears while she narrates her heartbreaking story.
Dress ahead of your time
If you refuse to be a fashion slave, then mix and match elements from different designers for a distinctive look, says Anju Chotrani
Have you ever wondered what it is to walk on the wild side? Surely, it needs more courage than conviction to break the norms, set your own rules, work your way around, and be proud of having tried. Well, that is what setting style trends is all about. So, if you refuse to be a fashion slave and reject what design pundits have to advise on whatís in and whatís not, here are some ways to go about it.
Women in distress
Thousands of women in Nepal enter prostitution because they belong to the Badi sub-caste. The Badis used to entertain at the Royal Court. Over the years, they turned towards prostitution, and their descendants are now trapped in this occupation, writes Sudeshna Sarkar
Like the vicissitudes in the fortunes of the epic heroes of the Ramayana and Mahabharata that formed the theme of their musical performances, a wandering minstrel tribe of eastern India is been reduced to prostitution for generations.
A dreamland in the clouds
Coorg offers such breathtaking sights that comparisons with Scotland are simply unavoidable, writes Mukesh Khosla
Like Kerala and Goa, a visit to Coorg during monsoons can be a special treat for nature lovers because of its landscape and luxuriant natural settings. Rains cast a magical spell on this region. The countryside becomes lush green, the otherwise serene River Cauvery is in full flow and a refreshing wind sweeps through the rain-kissed thick jungles.
New kids on the block
As filmmakers are looking outside the stable for talent, Kripa Krishnan takes a look at the emerging trends in Bollywood
There was a time in Bollywood when the search for a new face, as a rule, always ended with the launch of a star son or daughter. But more and more filmmakers are now looking outside the industry for new talent in unheard of places, including Twitter. Some of the best-known filmmakers in the industry, including Ashutosh Gowarikar, Madhur Bhandarkar, Mahesh Bhatt and Kunal Kohli are on a talent-hunting spree across the country.
No more serious roles, please
Ruchika Kher
Seema Biswas is tired of always being taken seriously! After doing strong character roles in Bandit Queen, Khamoshi and Water, the talented actress wants to explore the lighter side of cinema. "Iím very bored of doing serious roles. Thatís the only thing that is offered to me every time, and each time, I do it with utmost dedication and sincerity, but now Iím tired of doing that," Seema said in an interview.
At 64, Helen Mirren poses naked
Academy award-winning actress Helen Mirren has turned all age stereotypes on the head by posing naked at the age of 64. The veteran actress has posed naked in the bath for a set of photographs that were published in New York magazine.