Pillars of strength
Mahisura village in West Bengal's Nadia district was under water during the recent floods. Voluntary groups — all headed by women — of several villages have now joined hands to tackle the problem, writes Soma Mitra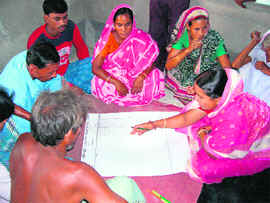 Women of self-help groups have formed task forces to check the menace of floods Photo: WFS

It has been almost a decade, and Pramila Das (38) still cannot get over the pain of losing her daughter, who was just two-and-a-half years old. The mother is in tears while she narrates her heartbreaking story. West Bengal experienced heavy floods, and the entire village of Mahisura in Bengal's Nadia district was under water. "Everything was washed away. My daughter Pallavi drowned. She was rescued from the waters, but no one in the village knew how to revive a drowned person, and she died," says the tearful mother.
Pramila isn't the only mother in the village who is bearing the burden of loss. Almost every family in Mahisura and other villages in Nawadeep block had had tragic encounters with those floods that year. Many lost their dear ones to the swelling waters, while others were victims of the aftermath.
But Pramila displayed extraordinary courage when she decided to channel her grief into doing something constructive for her community. She formed the Kalyani Self Help Group (SHG), just four months after the floods. She admits that women joined the SHG initially because they thought they would be able to secure relief material from the authorities by doing so. Pramila points out how they gradually understood that the SHG was not there for seeking doles but for making people self-reliant. So they decided to take rehabilitation efforts into their own hands and device ways to tackle the dangers of future flooding.
Initially, each member of the 10-member group compulsorily saved Rs 10 a month and a tiny amount of Rs 2 as a group fund. Every woman saves some money from household expenses and contributes her share. Any member who needs financial assistance can tap into the SHG kitty. Today, the Kalyani SHG is one of the many groups in villages like Malatipara, Majdia, Pansila and Kalinagar in Nawadeep. The groups have banded together to form an umbrella organisation called Nawadeep Haritha Mahila Unnayan Samity (NHMUS), a federation of about 500 SHGs. Moreover, with some infrastructural help from the local panchayats (village councils), NHMUS has tied up with Spade, an organisation that works in flood-prone areas.
Members of the NHMUS have divided themselves into different task forces. Each force recruits members from various flood-prone villages. Take Minati Debnath (48) of Pansila. This mother of two — one son and daughter — heads the research task force, and more than 100 members work under her. Their main agenda is to collect data from the grassroots. Before the monsoon sets in, members of this particular task force visit every household to collect relevant information about each family in the flood-prone villages of Nawadeep. The data collected would include the number of children and old people in the family, whether there is a pregnant woman in the household, and so on. The task force also surveys the village thoroughly to identify permanent houses and possible sites for setting up makeshift camps.
The result of the hard work of data collection has been admirable. Says a proud Debnath: "During floods a few years ago, not a single pregnant woman died. We led our rescue team, and expectant women were the first to be rescued. Each of them was brought to the nearest camp and was immediately provided with first aid." The critical information that was now available helped to make rescue operations more effective.
Tapati Biswas (40) of Kalinagar heads the early warning task force. Initially, she was reluctant to join up. Her husband had died in the floods, and she was absolutely shattered. "I did not even know how to run the family at that point. However, my neighbours forced me to join the NHMUS. Today, it is not only a source of income but also gives us the courage to fight against all odds," says Biswas, who lives with her two sons — one is a college-going lad, and the other is in school — and her mother-in-law. The job of her task force is to access the river gauge station. During the monsoons, members of the force check the water level of the Ganga on a regular basis. They also work closely with the Irrigation Department. As soon as there is a rise in the water level in the irrigation canal, the head of the team is informed, and all the team members across various villages are contacted immediately. Villagers are alerted, mainly by the blowing of conch shells, which indicates that they should prepare for evacuation.
"Of course, we cannot stop the floods but our effort has helped us immensely. We lost everything during the earlier floods but could not get a single paisa in terms of relief because the waters had washed away documents like ration cards and voter ID cards. Now we know how to store valuable documents. Now we can avail of rehabilitation benefits from the government because we have the necessary documentation," says Kabita Saha of Malatipara village.
Every year the NHMUS organises general training camps in every flood-prone village of Nadia as well as other districts like East Midnapur, Murshidabad and South and North 24 Parganas. Hands-on training is provided to teach people how to pack paper documents in airtight, water-resistant packets. Such packets are sold at subsidised rates. Villagers also pack dry food in these packets. Today every house in Mahisura, Malatipara, Majdia, Pansila and Kalinagar bears an amazing similarity to the other. One invariably finds a long list hanging on walls, each enumerating the various items needed to be packed, should there be a call for evacuation.
The NHMUS has also formed its own rescue team. It is headed by a woman — 19-year-old Chaya Malita, who has actively participated in rescue operations. "My three-year-old sister Lalita died before our eyes during floods. By the time the rescue team could reach us, it was all over," recalls a tearful Malita. When the Spade team visited her village, Malita insisted that they recruit her in the rescue team.
Interestingly, all task forces under the NHMUS are headed by women. This is also a well-thought-out move. Dipti Malita (39), a social worker from Kolkata, who is attached to the NHMUS, explains that the reason women are in these task forces is because they are always available for training, and training sessions are extremely important for developing the required skills. In fact, international agencies like the UNICEF organise regular training sessions for the NHMUS teams. The making of a raft is one of the activities in these training sessions. Villagers are trained by Spade to craft a shalpi out of a piece of tin and wooden blocks. Shalpis come in very handy during rescue operations.
Angura Bibi, who heads the camp management task force, is happy with the progress. "Now we hardly need government officials to manage these camps. We have our own first aid materials and are trained to use them. We also know how to purify water," she says.
Best of all, these regular training programmes have done more for these women than increase their survival skills. — WFS