Dress ahead of your time
If you refuse to be a fashion slave, then mix and match elements from different designers for a distinctive look, says Anju Chotrani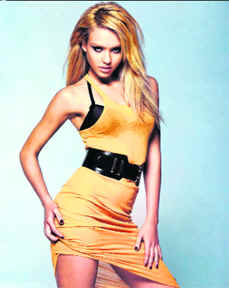 Have you ever wondered what it is to walk on the wild side? Surely, it needs more courage than conviction to break the norms, set your own rules, work your way around, and be proud of having tried. Well, that is what setting style trends is all about.
So, if you refuse to be a fashion slave and reject what design pundits have to advise on what's in and what's not, here are some ways to go about it. But first, step in front of a full-length mirror, and make an honest appraisal of your figure and looks. The mirror rarely lies.
By conventional wisdom, light colours, prints, metallics and shiny fabrics with embellishments (mainly around the neck region) work best on small-busted figures. Halters and triangle tops are your best bets, while under-wired bra tops can give you the much-desired lift.
For large-busted figures, look for support first. Under-wired, sculpted or built-in bras are very common now, and not as uncomfortable as they might seem. With wraps, strategically-placed floral prints, stripes and colour blocking, you can achieve a stunning look.
Getting down to the waist, the best way to create an illusion of a small waistline is to go for thin-belted suits, wrap fronts and colour blocking with appropriate accents. Try vertical stripes to hide that tummy, and should the hips be also big, use lighter colours to even things out.
Finally, for the short-legged, boy-leg shorts and skirted suits are a total no-no. Instead, try a leg style that rides high to lengthen your legs. Remember, prints with embellishments on top with solid darks worn underneath would always help create a visual balance.
Now that's for those who are never quite satisfied with their figures. For those of you who have nothing to complain about, ideally go for a sensuous cut that accentuates your figure but does not reveal too much. Deep earth colours like browns and oranges go very well with the Indian skin.
Of course, there are designers like Neeta Lulla and Vikram Phadnis, who would recommend peacock colours for added drama. The latter has come up recently with a low-cut, V-back dress in turquoise and blue-green batik effect. Teamed with flat Roman tie-up sandals, the look is smashing.
Rocky S moves a step further with oriental flower prints on neons, night blue and grey. He works mainly on a mix of spandex and cotton lycra with cuts that are very daring and emphasise the figure. His clothes are meant for the bold and adventurous, and need to be carried with loads of attitude.
There are other designers like J.J.Valaya, Anju Modi, Monisha Bajaj and Nikhil Shantanu who are also creating a buzz in fashion circles for their out-of-the-ordinary styles. It is always better to mix and match elements from different designers for a new, distinctive look.
For instance, Shantanu has short kurtis teamed with churidaars, or trousers with machine-embroidered butterfly designs, and big florals like single roses. His favourite colours are white, red, green and orange in fabrics ranging from Indian cotton to Irish linen.
For all these designers, certain fabrics like satin, polyester and velvet are best avoided. Moreover, precise geometric prints, herringbone patterns, zig-zag motifs, murky colours and military effects, which are currently present in vogue overseas, have no place in their scheme of things.
But then, that must not deter you from trying them out – if only, to be ahead of time. — MF