A dreamland in the clouds
Coorg offers such breathtaking sights that comparisons with Scotland are simply unavoidable, writes Mukesh Khosla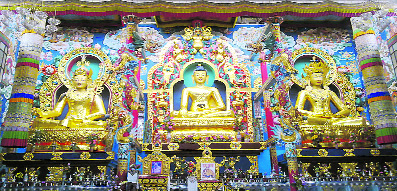 Golden Temple Monastery, near Kushalnagar, has a 60-foot statue of Gautam Buddha, flanked by two other equally grand images of Buddha. Photo by the writer

Like Kerala and Goa, a visit to Coorg during monsoons can be a special treat for nature lovers because of its landscape and luxuriant natural settings. Rains cast a magical spell on this region. The countryside becomes lush green, the otherwise serene River Cauvery is in full flow and a refreshing wind sweeps through the rain-kissed thick jungles.
Visually the huge expanse of vegetation at Coorg, comprising largely of coffee and tea plantations and water bodies, are a feast for the eyes. For tourists, the region offers everything desirable from a refreshing bath under a waterfall to a hill climb and from golf to trekking, fishing and white river rafting.
With its lagoons, rivers, dense jungles and deep ravines, Coorg is a picture postcard exotica that holds an enduring fascination for the footloose traveller. Till some years ago, not many North Indians knew much about Coorg —also known as Kodagu. Just 250 km from Bangalore, this thickly forested region in the Western Ghats offers such breathtaking sights that comparisons with Scotland are simply unavoidable. Fog-swept hills, rolling countryside with verdant valleys, gushing waterfalls and a languid pace of life — all come together to present one of the most splendid marvels that nature has on offer.
The arcane rituals and spectacular festivals stimulate even the most jaded imagination, continuing centuries of tradition that has never strayed far from the realms of magic. For nature-lovres, Coorg is a paradise.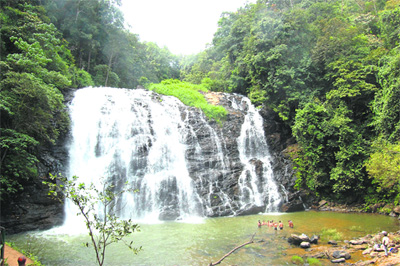 Surrounded by dense forests and coffee plantations, Abbey Falls, on the outskirts of Madikeri, gushes down from a height of 250 ft.

Coorg is worth coming to any time of the year. In winter, a visit to the nearby Nagarhole National Park — now re-christened the Rajiv Gandhi National Park — is most rewarding. There is an astonishing abundance of wildlife ranging from the majestic tigers to the fleet-footed leopard as well as the elephant, gaur, chital, sambar, barking deer, wild boar, langur, giant squirrels and jackals.
The National Park is a bird-lover's joy as well. There are more than 300 species of birds and it is not rare to sight the red spur fowls in all their glory. There are also the rare Malabar trogons, the great black woodpecker, the pied hornbill, the Indian pitta, the whistling thrush and the scarlet minivet.
The district headquarters of Coorg are

located at Madikeri — or Mercara — as it was known under the British Raj. This is a quaint hill town 1,200 metres above sea level, dotted with red-tiled colonial style bungalows. It has a population of around 30,000 and its main attraction is an ancient palace inside a fort.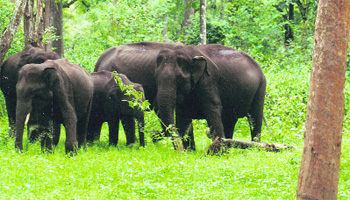 Nagarhole National Park has an astonishing abundance of wildlife, especially the Asiatic elephant

Kushalnagar, the other fascinating town of Coorg, is nearly 35 km from Madikeri. It is dotted with small islands formed by the Cauvery, splitting into four tributaries here. These islands are great picnic spots and attract a number of tourists and nature lovers for their exotic flora and fauna.
Back in the 1950s when Buddhists fled from Tibet after the Chinese invasion, they chose to stay in Kushalnagar because of its cool climate and hilly terrain. Though they later shifted to Dharamsala in Himachal Pradesh, they build a monastery called the Golden Temple, which is now an important Buddhist pilgrimage.
But if spirituality is not on your agenda, you can seek adventure by indulging in some lusty white water rafting. Fish lovers can throng to Valanoor, which is the backwaters of the Cauvery and spend a lazy afternoon angling in the still waters here for the famous Mahaseer, trout and salmon and other local fish.
Apart from rafting and angling, there's plenty to do in Coorg. It is a golfer's delight with three golf courses in Bittangala, Medikeri, and Pollibetta. Those fond of trekking can take to the hills — quite literally. The Tadiandamol, Pushpagiri, and Brahmagiri can throw up surprising challenges. One could take the verdant trek to Brahmagiri that leads to the stunning Iruppu Falls.


Fact file
Closest airports: Mysore (125 km), Mangalore (140 km),. and Bangalore (260 km)
Closest railway station: Mysore (125 km)
By road: The Mysore-Mangalore highway (NH48) passes through Coorg.
Best time to visit: April to November (Mild winter—Min. 22 degrees and summers
Where to stay: Accommodation available to suit all budgets
Cuisine: Mainly non-vegetarian though vegetarian food is easily available
Coorg has all kinds of accommodation and a few great resorts. Some of these are cloud-capped with idyllic mountains as a backdrop. Their charm lies in them not appearing like a hotel or a spa, but a villa surrounded by coffee plantations, where guests are happy to succumb to the charms of nature that bring a newfound zing to jaded nerves. However, nothing can replace the magic of spending a couple of days in one of the many well-furnished cottages that offer an opportunity to stay inside a plantation complete with nature walks, winding streams and meals around a campfire. The exotica can leave anyone mesmerised.
One of Coorg's lasting impressions is that of the waterfalls. Up in the hills there seems to be one in every corner. The most picturesque are the Abbey Falls on the outskirts of Madikeri and the Iruppu Falls near the Nagarhole National Park. Both are located between coffee plantations and spice estates as they hurtle down crags and rockfaces.
Coorg is a dreamland that is just four hours away from urban jungle. Winding through the chaotic traffic of Bangalore, our cab hit the highway to take us to the best-known coffee region of India. And a few hours later, as the Coorg countryside began unfolding, we knew we were in fairytale country. — NF