At 64, Helen Mirren poses naked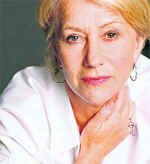 Academy award-winning actress Helen Mirren has turned all age stereotypes on the head by posing naked at the age of 64.
The veteran actress has posed naked in the bath for a set of photographs that were published in New York magazine.
The Queen star is seen curled up in water in one of the shots while another one depicts her looking at the camera while topless, reported New York Post online.
The photos and the accompanying interview was done to promote her upcoming film Love Ranch, where she plays a brothel madam who has an affair with a man, three decades younger to her.
Mirren, who turns 65 next month, went to a real brothel to research for the film which is directed by her husband, Taylor Hackford.
Though Mirren refused at first, she later acquiesced.
"I said, 'Read my lips, I'm not going to spend a night in a brothel'. But it's amazing how quickly you get into dildos everywhere and pink-feather handcuffs. Within an hour, you're completely used to it," said the actress. — PTI