For better or for worse?
The sighs of those romantic hearts were almost audible as the news of Dhoni's marriage broke on Sunday night. Is a celebrity's fan following directly proportionate to his 'single' status? We find outů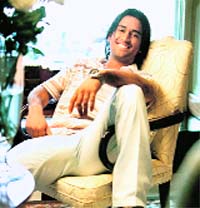 Rumours were rife, but we couldn't care less as long as they dangled his 'officially single' status in front of us. How we drooled over the unkempt hair, that million-watt smile, his fours and sixes. But yesterday, on a Saturday night, some 'investigative journalists' busted the story that crushed hopes, dampened spirits, and needless to say broke hearts. One of India's most eligible bachelors got married. Team India skipper Mahendra Singh Dhoni exchanged vows with Sakshi Singh Rawat, a hotel management graduate at a private ceremony in Dehradun.

MS Dhoni

Move-ing on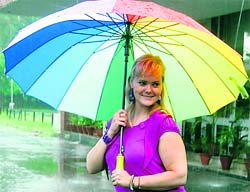 She is 25, an actor, singer, dancer and choreographer. A go-getter, she changes country every season. Julia Klesse, show manager from Dresden, Germany, belongs to a family of artistes who have been doing famous opera Semperoper for past many years. On her third visit to Chandigarh, Julia reveals what India means to her. All charged up after a 10-day Vipasana camp at Sonepat, Julia shares, "India is one country that I love and hate the most."
Photo: Vinay Malik

Made for Bollywood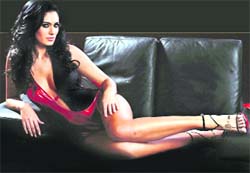 Brazilian model Bruna Abdulla has been a VJ, done an item number and also featured in a reality show. But destiny, she said, knocked only when she got the big screen break in I Hate Luv Storys. "When I packed my bags for Mumbai, all I knew was that I wanted to be a model. Not even in my faintest dreams had I dreamt about grabbing a role in such a big project. I just don't know exactly how I am here, but I guess it was destined," said Bruna.


Bruna Abdulla

No game plan


I hate people who love sports, says RGV
Filmmaker Ram Gopal Varma doesn't just detest romantic dramas, he hates sports too and even those who like to watch sports."If there's one thing I hate more than sports, it's the people who love sports. Hatred could be because I got severely injured while playing cricket at the age of 12 and ever since I stayed away.
Oscar winning advice


Aamir Khan must make a film on first US president George Washington and win an Oscar for it," says veteran Indian singer Asha Bhosle. "Since Englishmen can make Oscar winning films like Gandhi and Slumdog (Millionaire), Aamir Khan should make a film on George Washington and win the Oscar finally," said Bhosle. Earlier, Aamir's presence on the Oscar red carpet had been along with filmmaker Ashutosh Gowariker in 2002 when their film Lagaan was nominated for the best foreign language film.
Chop shop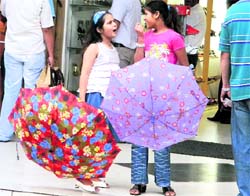 The monsoon shower cuts down the shopping expedition for these young girls. Lifestyle photo: Vinay Malik

Behind the camera
The acting offers I got didn't excite me, says Punit Malhotra
Manish Malhotra's nephew Punit Malhotra, whose directorial debut I Hate Luv Storys released on Friday, says that he came to Bollywood to become a leading man but did not get good acting offers.
Knot so loose
Newlywed Megan Fox believes celebrity marriages are doomed to fail, because the temptation to cheat is 'just too much'. The actress, who recently married long-term on-off boyfriend Brian Austin Green, said she believes that Hollywood marriages are likely to end in divorce.
A simple life
Cameron Diaz wants farm life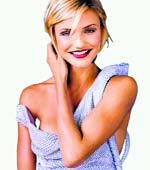 Hollywood star Cameron Diaz is contemplating taking a break from her A-list lifestyle to go and live on a farm. The 37-year-old actress is considering taking a break from the spotlight for a year so she can get closer to the earth as she "feels the need" to grow crops and rear animals. "I've always been on the move so what I'd love to do is spend a whole year in one place, on a farm," Diaz said. "It's almost like this primal thing. I really just feel as if the earth is where we all come from and we have nothing if we don't have soil and water and sun. I've read a lot about agriculture and I feel the need inside me to work with the earth in some way."
Brand of boys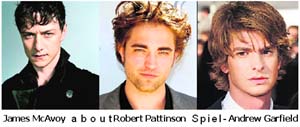 They are young, gifted and posh, and fighting evil at a cinema near you. Most importantly, they are British. Hollywood had always a supply camp for supercilious English villains. But now producers are casting quirky-but-dishy British boys as heroic, romantic action film leads.
Well play-ed
The belief that theatre is a complete art pervasive with many other elements like literary and fine arts found its true expression in Su-Kriti - the two-day multi Art Theatre Festival commenced at the Randhawa auditorium.
An evening to remember


After the country comes the family and my official family comprising of all the employees of the State Bank of India especially those from the local head office," maintains SK Sehgal, Chief General of State Bank of India, Chandigarh circle. Adding a new dimension to this year's musical evening, only the amateur artists from the bank or their families performed while masters like legendry Pt. Shiv Kumar Sharma, Penaj Masani, Wadali Bros, Aslam Sabri and Vinod Sehgal attended as guests. It was a well designed mix of all genres of art including skits, songs, ghazals and dances.
Spice up
Matte(r) of fact
During the monsoons, make-up does not seem to last. In no time, foundation becomes streaky and blotchy. Actually, a natural, matte (non-shiny) look is the latest trend and is also more suitable for the humid season. Heavy foundations and shine on the face are definitely out of fashion. The effort should be to achieve a sheer and translucent skin texture. Look for a matte finish, if you want to be 'in'. Here are some common monsoon make-up blunders:
BODY wise
Eat it right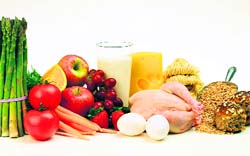 The body's weight-related functions - like appetite, hunger, metabolic rate, metabolism of fats and sugars, blood-glucose levels, calorie-burning, and so on operate more efficiently when we have an optimum intake of minerals and vitamins. However, if you have been dieting for a number of years, either restricting your food intake or trying different diet drinks or pills, it is likely that you are deficient in a number of vitamins and minerals that are necessary in maintaining optimum health and weight. Either try incorporating the specific foods mentioned below in your diet or opt for a good multi-vitamin.
Let it bee


Bees make a protein called defensin-1 that they add to honey, which could one day be used to treat burns and skin infections and to develop new drugs that could combat antibiotic-resistant infections. "We have completely elucidated the molecular basis of the antibacterial activity of a single medical-grade honey, which contributes to the applicability of honey in medicine," said Sebastian A.J. Zaat, researcher in medical microbiology at the Academic Medical Centre, Amsterdam.