PUNJAB
HARYANA
JAMMU & KASHMIR
HIMACHAL
REGIONAL BRIEFS
NATION
OPINIONS
LETTERS
BUSINESS
SPORTS
WORLD
Wednesday, July 7, 2010, Chandigarh, India
Updated at 3:00 am (IST)

Ambala afloat, Army in
n Four persons electrocuted
n Power switched off as precaution
n Rail services severely disrupted
n Flood alert in Punjab, Haryana
Chandigarh, July 6
The Army has been called out in Ambala and Kurukshetra districts of Haryana, ravaged by floods following heavy rainfall in the past 24 hours.


22 trains hit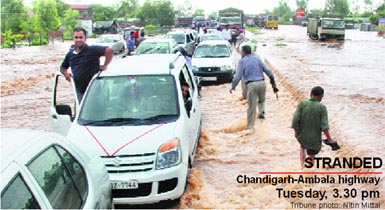 A man fights for life in the flood waters at Jharmadi village near Lalru. The Tribune lensman Nitin Mittal captures his rescue.
CAST YOUR VOTE
Should Warren Anderson be extradited?

EDUCATION
JOBS & CAREERS
HEALTH & FITNESS
SCIENCE & TECHNOLOGY
REAL ESTATE

SPORTS & WELLNESS
Valley on boil, 4 dead in 24 hours
Army deployed as curfew reimposed in Srinagar after clashes
Srinagar, July 6
Four youths, including a woman, were killed and 100 others injured in fresh clashes that broke out between the cops and protesters in the valley over the past 24 hours. For its part, the administration has reimposed curfew in the area and the Army was called out by late evening.

Dutch take final step
Beat Uruguay 3-2 to enter first World Cup final in 32 years as Sneijder strikes again
Cape Town, July 6
Playmaker Wesley Sneijder inspired Netherlands to a 3-2 win over Uruguay on Tuesday that sent them back to the World Cup final after a 32-year wait.
Oranje beat the Blues, enter final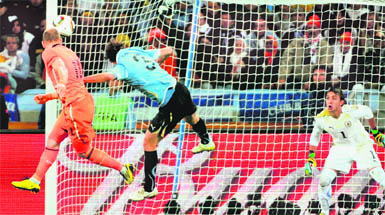 Netherlands' Arjen Robben (L) scores during their World Cup semifinal against Uruguay in Cape Town on Tuesday. They will play the winner of Spain and Germany's match, who play the second semifinal on Wednesday. — AFP
TODAY'S SPECIALS
JOBS & CAREERS

AMRITSAR PLUS

J&K PLUS

HIMACHAL PLUS

JALANDHAR PLUS

HEALTH & FITNESS

UNION BUDGET 2010-11
RAILWAY BUDGET
2010-11
NDA 60 Glorious Years
1857 The First Challenge
E - Revolution 2005:
A Two-day IT conclave
Assembly Elections - 2005
Turbans
Chandigarh is 50
125 Years of The Tribune
India: The Tasks Ahead
India at Sixty
A Tribune Supplement
EARLIER FEATURES
On Sundays
On Saturdays
India, Japan start dialogue to counter terror, piracy
New Delhi, July 6
Days after they held negotiations on a civil nuclear deal, India and Japan today kick-started a path-breaking '2 + 2 dialogue' to intensify counter-terror and anti-piracy cooperation.
Mahindra gets bail, says he'll help victims


Bhopal, July 6
Keshub Mahindra, chairman of Union Carbide India when the gas leak took place, was today granted bail by a local court. Mahindra, who was given a two-year jail term for his role in one of the world's worst industrial disasters, said he wanted to do "something concrete" for the victims.
India dispatches aid to Kyrgyzstan
New Delhi, July 6
India's first consignment of humanitarian aid for violence-hit Kyrgyzstan left by an IAF's IL-76 aircraft today. The heavy lift aircraft, with nearly 50 tons of aid material such as medicines, food items and tents, took off from Delhi for Osh in Kyrgyzstan, an IAF spokesperson said here.
Army units to be deployed in Chhattisgarh: Antony
Bangalore, July 6
Indicating increasing involvement of the Army in the drive against Naxalite guerrillas, Defence Minister AK Antony today said Army units would be deployed in Chhattishgarh — one of the states severely affected by the Naxalite strikes — to help the police and paramilitary personnel in their fight against the Maoists.
Inter-caste ties behind most honour crimes
July 6, 2010
Another couple butchered
July 5, 2010
Delhi airport goes swanky
July 4, 2010
Top Maoist leader shot dead in AP
July 3, 2010
Centre to J&K : Crack whip on stone pelters
July 2, 2010
PC sees Lashkar hand in Valley
July 1, 2010
Diesel prices to be decontrolled: PM
June 30, 2010
India, Canada sign N-pact
June 29, 2010
Can't silence Hafiz: Pak
June 28, 2010
India, Pak take a leap of faith
June 27, 2010