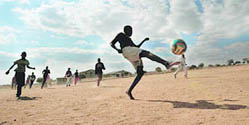 Out of Africa
With the curtains coming down on one of the biggest sporting spectacles, India can take some cues from South Africa's hosting of FIFA World Cup 2010 as it gets closer to staging the Commonwealth Games. Vaibhav Sharma reports after a visit to the soccer-struck nation
THEY say it is the biggest sports extravaganza on earth. Bigger and better than anything that happens in the four years between each event. Yes, it is the FIFA World Cup that we are talking about. This is the tournament, which can halt business, diplomatic meetings and, at times, even nations.
In search of a home
Floods and cyclones bring hundreds of homeless people to Kolkata from rural areas. They come looking for a living, but end up on the streets. Without documents, they are deprived of citizen rights, writes Ajitha Menon
THE lady in the tattered and dirty sari perches herself precariously on the railing below the Gariahat flyover in South Kolkata, cooing over an emaciated baby, nursing at her breast. Both of them are caked in dust. A cloth bundle, torn in several places, hangs from her shoulder. It holds the sum total of her belongings.
Seductive Sydney
There is so much to see and experience in this charming city that it is not unusual for first-time visitors to lose their heart to it, writes Anil Sarwal
SYDNEY is the dream city for the young and old alike, though not in the same way that New York is. The lasting impression of this beautiful city is that it is quite laid back. You do not feel swept off your feet when you enter the city centre.
Divine romance
Meetu Dhawan
Raasleela is considered as one of the most delightful, romantic and picturesque events in the life of Krishna. As an incarnation of Lord Vishnu, Krishna signifies and glorifies joy. The 10th chapter of the Bhagwata Purana discusses all his leelas during childhood and youth.
Plato Code cracked
IN what could be called a historical discovery, a science historian at the University of Manchester has cracked The Plato Code — the long-disputed secret messages hidden in the great philosopher's writings. Plato was the Einstein of Greece's Golden Age, and his work founded western culture and science.
A drop of life
Abhishek Pathak's National Award-winning film Boond brings forth the struggle for water and the power it wields, writes Rajendra Rajan
Abhishek Pathak's Boond, a crisp and captivating melodrama weaved in 25 minutes, left the audience spellbound at the Indian Panorama Festival 2010, which was held in Shimla recently.
No film is safe: Sonam Kapoor
Joginder Tuteja
ShE is just two films old in Bollywood, and neither of her silver screen outings managed to get the cash registers ringing, but actress Sonam Kapoor says she is not going the "safe" way with her third film, rom-com I Hate Luv Storys.