Bihar humble UT team
Akash Ghai
Tribune News Service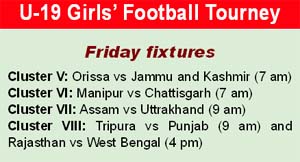 Chandigarh, July 15
If Chandigarh senior boys team bit the dust in their opening match against Maharashtra in Santosh Trophy today at Kolkata, the result of local girls' team in the 9th Junior National Football Championship for Girls (U-19), being held here, was no different.
Playing against Bihar, the local team lost the match by 0-5 at the ground of Punjab Engineering College, Sector 12 here today.
Bihar opened their account in the 29th minute through Soni Kumari. The next seven minutes witnessed three more goals by Neha Kumari (30th min), Shilpi (35th min) and Shweta Kumari (38th min) respectively. The score was 4-0 when the lemon break whistle was blown.
Downed by 0-4, the city's players could not display good show in the second half too. On the other hand, Preeti Kumari of Bihar capitalised on a chance that came her way in the 60th minute to make the score 5-0.
In their respective matches, Goa and Haryana kicked off their campaign with thumping victory over their respective rivals while Jharkhand and Pudducherry played a one-all draw and split points in their first match of the tourney.
Whereas, Goa pumped in 24 goals to beat Himachal Pradesh by 24-0, the score of the match between Haryana and Gujarat witnessed 29-0 score in favour of the former.
For Goa, Angel gave a brilliant performance by pumping in nine goals while the other contributors were Micher Margret (3), Cassandra (2), Nigima (2), Stessi (2), Ayesh (2), Snyalerye (1), Ageema (1) and Mayola (1).
For Haryana, Taruna stole the show with her 11 goals. The other scorers were Manpreet (3), Shalu (3), Preeti (3), Ritu (3), Seema (2), Sonia (2), Priyanka (1) and Radha (1).
In other matches, Sikkim thrashed Kerala by 5-0, Anita (35, 54), Mongnit Leacha (47, 74) and Nima Lahmu (28), whereas Tamil Nadu beat Madhya Pradesh by 2-1.