PUNJAB
HARYANA
JAMMU & KASHMIR
HIMACHAL
REGIONAL BRIEFS
NATION
OPINIONS
LETTERS
BUSINESS
SPORTS
WORLD
Saturday, July 17, 2010, Chandigarh, India
Updated at 3:00 am (IST)

Day after, the war of words begins
Blame game: India came ill-prepared, claims Pak
Krishna says can't compare Hafiz with Pillai
New Delhi/ Islamabad, July 16
A war of words broke out between India and Pakistan, a day after External Affairs Minister SM Krishna and his Pakistani counterpart Shah Mehmud Qureshi failed to achieve any result at their eagerly awaited meeting in the Pakistani capital.


BJP condemns, Cong praises
Editorial: Setback to dialogue


NO THAW IN SIGHT: External Affairs Minister S M Krishna at the airport in Islamabad on Friday. — PTI

CAST YOUR VOTE
Should Warren Anderson be extradited?

EDUCATION
JOBS & CAREERS
HEALTH & FITNESS
SCIENCE & TECHNOLOGY
REAL ESTATE

SPORTS & WELLNESS
Why did the talks fail?
July jinx haunts India-Pak dialogue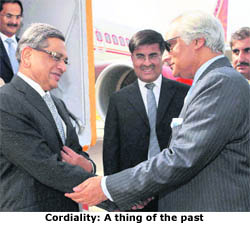 What was billed to be a serious and meaningful dialogue has ended in a disaster but then July has always been a bad month for Indo-Pak talks. The Vajpayee-Musharraf summit in Agra (July, 2001) ended in acrimony and bitterness; when Manmohan Singh met the Pakistani PM Yousef Raza Gilani at the Egyptian sea-resort of Sharm-el-Sheikh, also in July last year, the joint declaration caused a furore and further talks were put on hold.
ISI pushed Pak on back foot
It paid Rs 25 lakh to LeT to buy boat for 26/11 attack: Headley
New Delhi, July 16
Irrefutable evidence on involvement of Inter Service Intelligence (ISI) in planning and executing the Mumbai attack led to the breakdown of talks between India and Pakistan.
Today's Specials
REAL ESTATE

J&K PLUS

AMRITSAR PLUS

SPORTS & WELLNESS

UNION BUDGET 2010-11
RAILWAY BUDGET
2010-11

NDA 60 Glorious Years
1857 The First Challenge
E - Revolution 2005:
A Two-day IT conclave
Assembly Elections - 2005
Turbans
Chandigarh is 50
125 Years of The Tribune
India: The Tasks Ahead
India at Sixty
A Tribune Supplement
EARLIER FEATURES
On Sundays
On Saturdays
Indian community divided over blood money
The suggestion of offering blood money to the family of Mishri Khan, who was allegedly murdered in a clash between group of Indian workers and Pakistani workers more than a year ago, has divided vertically the Indian community here.
SC dismisses Virk's PIL
New Delhi, July 16
The Supreme Court today dismissed a PIL filed by former Punjab Police chief SS Virk seeking implementation of the court's directive for providing a minimum of two-year tenure for Director Generals of Police (DGPs).7
Jagan yatra no longer under Cong radar
Hyderabad, July 16


The Congress high command appears to be softening its stand on the rebel MP and CM-aspirant YS Jagan Mohan Reddy who has defied the party's diktat and undertaken his controversial "Odarpu Yatra"."Jagan has made it clear that it is his personal tour (to meet and console families of those who died of shock or committed suicide following the death of former Chief Minister YS Rajasekhar Reddy in a helicopter crash). The party has nothing to do with it," AICC General Secretary in charge of Andhra Pradesh Veerappa Moily said here today.
Coming soon: Single jab for all types of flu
London, July 16
A "universal" jab that will protect against every type of flu is coming soon, say scientists. An international team is working on such a vaccine that will fight off all major strains of influenza -- from the routine winter flu to virulent new strains of bird flu — and it claims that the jab could be available within a few years.
India-Pak talks end in stalemate
July 16, 2010

Unified Command to battle Naxal menace
July 15, 2010

Rumble over mining brothers hits Delhi
July 14, 2010
Unite for Kashmir, parties urged
July 13, 2010
Mehbooba says 'no' to PM
July 12, 2010
Spain vs Holland: Who'll win?
July 11, 2010
CBI chargesheets Punjab Speaker
July 10, 2010
Ambala-Delhi rail traffic hit; Hisar highway closed
July 9, 2010
Govt to use Army as 'deterrent' in J&K
July 8, 2010
Ambala afloat, Army in
July 7, 2010