A Home for Sir Vidia
It is ironical that Nobel Laureate Sir V. S. Naipaul was asked to prove his Indian origin recently, given the fact that he has spent a lifetime writing about the diaspora, says Rajnish Wattas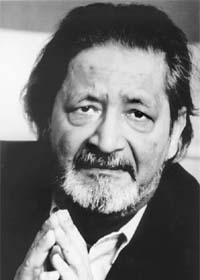 THE recent news report that Lady Nadira had a taste of the sarkari ways of the Indian High Commission couldn't have left Sir Vidiadhar Surajprasad Naipaul amused in his rocking chair in the wood-lined study of his Wiltshire cottage, UK. Trust the Indian High Commission to extend its 'state-of-the-art' rude and crude bureaucratic ways, regardless of the fact that the visitor was none other than the wife of a Nobel Laureate, who the country gushingly claims is of Indian origin!
Naipaul's search for a 'home' is in a way ironical, and a case of life imitating art. For, he has spent a lifetime writing about the diaspora – both in fiction and non-fiction. The exile catches up with the literary lion in winter once again.
As the issue rages on, it would, perhaps, be appropriate to revisit Naipaul's literary accomplishments and his oeuvre, to appreciate the literary weight of the colossus better. Owing to his particular background —Naipaul's grandfather was a Brahmin hailing from eastern India, who had come to Trinidad as indentured labour — he was always engaged with the predicament of post-colonial societies. "His travels in these emergent Third World societies have resulted in perceptive books about the forces of history at work there and are almost predictive in their analysis," says Mohini Kent. His books on Islam like Among the Believers and Beyond Belief were almost prophetic in anticipating the course of history that countries like Indonesia and Pakistan would take, much before they actually did. Similarly, his understanding and insights into the colonial histories of his homeland Trinidad and of South America's plunders by Spaniards go beyond a stodgy historian's narrative. He writes as a raconteur or as a classic travel writer; with his notebook, penetrating gaze and razor-sharp mind prodding people to tell their stories, tumbling out as first-person accounts.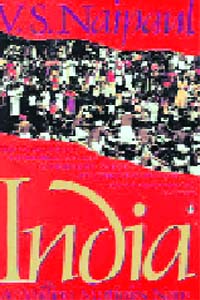 In many of his books, the central theme is of displacement – of a man looking for a life and, perhaps, having to borrow a life. Never living life to the full. It makes oblique parallels with Naipaul's own. He escaped to the UK on an Oxford scholarship and created a new life for himself away from the narrow confines of Trinidad. Writing about his migration in Finding the Centre, ''I left them all and walked briskly towards the aeroplane, not looking back, looking only at my shadow before me, a dancing dwarf on the tarmac."
Later, India, the land of Naipaul's ancestors, inspired the famous trilogy: An Area of Darkness in 1962, India: A Wounded Civilisation, published in 1977, and India: A Million Mutinies Now, in 1990.
They earned him enormous angst and criticism for a biased "brown sahib's view of Third World subjects." Even Salman Rushdie accused Naipaul of a lack of compassion and hostility towards post-colonial Third World societies. But the books, for all their notoriety, made him a household name in the world of Indo-Anglican readership. Later, Naipaul admitted: "What I hadn't understood in 1962, or had taken too much for granted, was the extent to which the country was being remade." He added: "India was set on a new kind of intellectual life; it was given new ideas about its history and civilisation." And he partly atones for the great hurt with his more understanding last and major work, India: A Million Mutinies Now, exploring this theme in great detail. His last book based on India, Magic Seeds (2004), is a work of fiction and yet again, in almost a brilliant, clairvoyant way, depicts the spread of the Maoist insurgency currently bleeding the country.
The diaspora theme has been played upon by Naipaul in his early works of fiction also very successfully, and, in fact, provided the first literary breakthrough and success.
His books like Miguel Street, Mystic Masseur and A House for Mr Biswas draw heavily upon his memories of growing up in the Port of Spain. "To become a writer, that noble thing, I had thought it necessary to leave. Actually to write, it was necessary to go back. It was the beginning of self-knowledge," Naipaul writes, while explaining his craft in the book, Reading & Writing.
However, what makes Naipaul compelling reading is essentially his clear, long-focussed, insight and vision; and even more, his un-fogged, crystal-clear, precise writing. There is never an extra word. Though, he usually prefers small words; he can construct very long sentences, without the reader ever losing track or pausing for breath.
With a literary oeuvre of 24 books comprising fiction, non-fiction and a uniquely characteristic fusion of narrative styles; the life and work of Naipaul carry too much import and gravitas to trifle with. "His are the concerns of a global interpreter of human maladies and the struggles of both the individual and the societies to come to terms with their unsettled destinies. His is not the voice that soothes but sears. But it is always honest and brutally honest," says Tarun Tejpal.
After winning the Nobel Prize for Literature in 2001, with his failing health, the travels became difficult, and, therefore, he turned his creative energies to literary criticism and autobiographical themes. Later books like Reading & Writing: A Personal Account (2000), The Writer and the World: Essays (2002), Literary Occasions: Essays (2003), A Writer's People: Ways of Looking and Feeling (2007) and some small anthologies of previous works proved to be a goldmine for the aspiring writers, creative writing schools and his ardent fans; for Naipaul more than any other living writer has taken pains to share the writing process, craft and style — and the making of a writer, with the readers.
Naipaul's India fascination, that started with researching for his books, continued much more frequently in the nineties as social-literary visits, of being feted as the long-lost son of the soil who had done the country proud by winning the Nobel Prize for Literature in 2001. His growing friendship with some Indian editors and journalists like Rahul Singh, Tarun Tejpal, Vinod Mehta and Shekhar Gupta resulted in tremendous media attention, and getting toasted by the culture vultures of Delhi. His presence during elite literary festivals and his views and 'divine utterings' were sought by the media as quotable quotes. And the crowning glory was being one of the star invitees of the BJP Government during the Pravasi Bharatiya Divas in 2003, being grandly hailed by L.K. Advani, the then Deputy Prime Minister, as the literary giant, who rightfully belonged to India.
And after all this fanfare, the rude treatment by the Indian High Commission would surely give Naipaul a rude awakening about the capricious chimera of 'Mother India'!
But for the average Indian this is no surprise. An NRI told me the other day that the worst treatment among various foreign missions abroad they ever receive is from the home missions. "You enter in there and some rude clerk will invariably ask, 'Yes, what do you want?' and not the polite, 'What can I do for you, sir,' which you get used to hearing in other places abroad."
My last communication with Naipaul was through a handwritten letter – jealously guarded – that he wrote to me, scribbling on hotel stationery. "Hope you will excuse my handwriting. My wrist became tired 20 years ago, after all the writing; and now won't obey my brain. It won't stay on the paper as it should. It slides away to take the pen with it`85"
Is it too much for India to give a home to Naipaul in the evening of his life? His pen — but not the mind — deserves a rest.