M A I N N E W S
63 dead in Bengal train collision
* Speeding Uttarbanga Express overshoots signal, ploughs into Vananchal Express
* One of the coaches mounts overbridge upon impact
* Mamata hints at sabotage, officials 'puzzled'


Was there any signal failure? If so, Railways is to blame
Was there a brake failure of Uttarbanga Express? If so, again Railways to blame for poor maintenance
Why did the driver of Uttarbanga Express enter Platform 4 where Vananchal Express was already waiting? Did he ignore the stop signal? Here too, Railways is responsible.
Was emergency vacuum of the Uttarbanga Express working? If so, why was it then not used before heading towards the stationary Vananchal Express?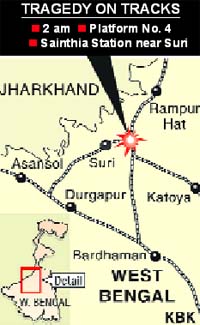 Sainthia (WB), July 19
A high-speed Sealdah-bound express train tore into the rear of a stationary train, killing 63 persons and injuring 92 others at Sainthia station of Birbhum district, apparently overshooting a signal in the small hours of the day.
The accident occurred around 2 am when the New Coochbehar-Sealdah Uttarbanga Express came on the same track and rammed into the Bhagalpur-Ranchi Vananchal Express which was just pulling out of platform number four after having suffered a delay of four to five hours.
Three rear coaches, including one luggage van and two unreserved general second class coaches of the Vananchal Express, were heavily damaged in the accident in the Bolpur-Rampurhat section of the Howrah division, Eastern Railway officials said.
Birbhum District Magistrate Soumitra Mohan said 63 passengers died and of the injured, the condition of 36 was serious. The injured have been admitted to Burdwan Medical College and Hospital.
Driver M C Dey, a seasoned 'A' category loco pilot with a good safety record, and assistant driver N K Mandal of the Uttarbanga Express were among the dead in the accident for which the Railways was not ruling out sabotage.
Guard of the Vananchal Express A Mukherjee also died in the mishap which was so severe that one of the coaches mounted the road overbridge across the tracks in the station, 191 km from Kolkata.
A part of another compartment of the Vananchal Express split and fell on the road along the tracks after being thrown over the bridge.
Railway Minister Mamata Banerjee said: "We have doubts about the cause of the accident, the second in West Bengal in two months." Railway Board chairman Vivek Sahai, who visited the accident site, told reporters that it was unusual on the part of the drivers who neither applied emergency brake, nor made any attempt to stop the train to avoid the accident.
Sahai described the accident as "very unusual. There was something wrong with loco pilots. The brakes were not applied at all nor the emergency brakes though the train was running at a high speed. They (driver and co-driver) were not even trying to jump out and were found occupying their seats," he said.
Not ruling out sabotage, Eastern Railway general manager V N Tripathi said, "What caused this, we will have to find out. The driver was a very good driver and we are also puzzled. — PTI