Power punch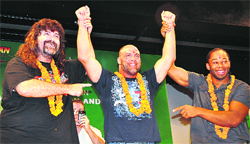 Difference number one — wrestling is a glamourous sport in the West. Here, it is still restricted to rural areas; doesn't find enough followers among the youth. Number two — the popular names end at the Great Khali and Olympic medal winner Sushil Kumar in India while abroad, the list is endless. Third is about infrastructure and fourth about coaches, fifth, sixth…the reality check of Indian wrestling scenario vis-à-vis that in the West is bound to be hard-hitting when the true account is given by stalwarts of sport.
Big applause
Amitabh Bachchan calls Udaan a breath of fresh air
Bollywood megastar Amitabh Bachchan has heaped praise on debutant director and his son Abhishek's schoolmate Vikramaditya Motwane's new film Udaan.

Guest appearance
Bollywood superstar Aamir Khan showed up for the I Hate Luv Storys (IHLS) celebration bash, but people close to Karan Johar suggest that too much should be read into this so-called new friendship. "Aamir invited Karan to his Peepli Live music release. Karan invited him back for his IHLS party. That's it. To conclude that they are working together in a film is not just pointless, it's also unnecessary," said the source.
Friendly gesture
Rahat Fateh Ali Khan thanks India for promoting talent from Pakistan


Pakistani singer Rahat Fateh Ali Khan, who is one of the judges of the music-based reality show Chotte Ustaad 2, says he is thankful to India for providing a platform to young singers from his country, which hasn't been able to promote budding talent."The situation in Pakistan is not good...the country is facing problem of terrorism and so we cannot provide a platform to budding talent here.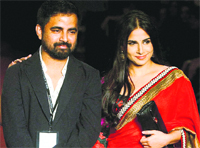 Cultural couture
The very first Couture Week in the capital was opened today by designer Sabyasachi Mukherjee who presented a collection inspired by the "essence of India". Bollywood actresses Rani Mukherjee and Vidya Balan, who have time and again dressed in Sabyasachi's creations, were present in the audience to cheer on the designer. "Sabyasachi is the only designer I stalk," said Vidya, who was clad in a red sari by the designer, while Rani went for a western look in a black jumpsuit.
— Sabyasachi with Vidya Balan
Something spooky
Harry Potter star Daniel Radcliffe is all set to play a spooky role in the big screen adaptation of Susan Hill's scary novel The Woman In Black. The 20-year-old actor is currently lining up work after finishing filming on the wizard movies this summer. Radcliffe has already signed up for a remake of All Quiet on the Western Front and a Broadway production of How to Succeed in Business Without Really Trying.
Gritty thought
Hollywood star Ashton Kutcher wants to work on a "gritty" western movie, but doesn't think it will happen as few people enjoy the genre any more. The 32-year-old actor wants to work on a cowboy-themed movie, but admits that the chances are slim, Contactmusic reported.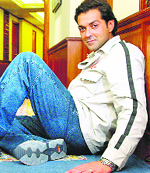 High on horror
For the first time in his 15-year-old career, Bobby Deol, the romantic- action hero, has attempted to do a supernatural thriller - a not-so-popular genre with his latest Help. But the actor is taking his chances, saying there is "no guarantee what will work and what won't". "It's not only horror films that didn't work this year. There are many others that didn't either. There is no guarantee what will work and what won't," said Bobby. "Every Friday when your film is about to release, you are scared, you don't want to be around because you don't know what's going to happen," he said.

Sneak peak
INIFD's Designer Medley 2010 brings out the elements of painting, dance and other art forms in beautiful dresses created by final-year students
Madhubani paintings, Delftware pottery from Holland, beaded work from African Maasai tribe, searing volcanoes and celestial light come together in Designer Medley-2010, prepared painstakingly by budding artistes of International Institute of Fashion Design (INIFD).
With a smile
Cotton Council International announced the second edition of its pan-India
t-shirt design competition — Teezing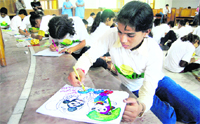 Perhaps, that's what's commendable of the corporates and all the commercial activity associated with it — a charity angle tangent to some social events. Cotton Council International announced the second edition of its pan-India t-shirt design competition - Teezing. Herein fits the altruist angle; Cotton Council had Smile Foundation as charity partner for the event in Chandigarh.

Diesel dazzler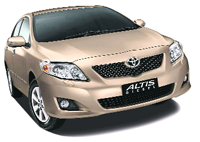 Toyota Kirloskar Motor Pvt. Ltd announced the launch of the Corolla Altis Diesel in India. The latest offering from TKM has been developed keeping in mind the distinctive requirements of the Indian customer with the basic concept of 'optimum balance of performance and economy'. India is the first Asian country to get the BSIV Corolla Altis Diesel.
Combo delight
If you think you have enough options to dig in and satisfy the big Punjabi appetite, think again. When talking food, we would always have room for more and so Zaika Rest-O-Bar launched their special lunch combo menu. Designed to bring the best dishes at minimal pricing, the combos are for people on the move.
Kiss of nature
Lotus Herbals introduces Floralglam
Time to go green with your lipsticks! Lotus Herbals has introduced FLORALGLAM, a new range of moisturizing lip colours. Lotus Herbals FLORALGLAM lip colour is enriched with Comfrey extracts Nigra and Ovata seeds and is natural, safe and free of animal products.
That feeling inside

Loneliness and the feeling of being unwanted is the most terrible poverty," said Mother Teresa. Despite modern means of communication and transportation reducing distances, loneliness is increasing like never before. We do a quick check of the causes and possible solutions, if any. "Breaking down of the joint family system, increasing obsession with mobile phones and laptops, employment taking kids to far away places and decreasing patience levels - are all responsible for rising levels of loneliness," says Sulekha Misra, a lecturer in biology.
Sibling solutions
Concentrate more on the positive things that can be done to help children get along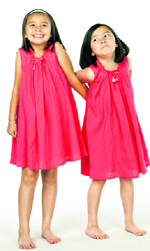 Ending conflict between siblings should not be the primary focus of parents - they should concentrate more on all the positive things that can be done to help children get along, says an American expert. Writing for a special section of Child Development Perspectives, Laurie Kramer, a University of Illinois professor of applied family studies, says: "Even if you're successful at reducing conflict and antagonism, research suggests that you'll probably be left with little positive interaction between siblings. Do you really want your kids to head for their rooms and spend time mainly on their own interests and with their own friends?" She urges parents to think about the relationship they want their kids to have with each other - now and as adults - and to be intentional in helping them create that positive, supportive bond. "Most parents would like for their kids to be able to talk with each other, have fun together, and be a source of support for each other during stressful times in their lives," she says.
Loneliness PANGs
In today's competitive world, loneliness is a reality more than ever before. Most parents struggle hard to meet targets at work as well as at the home. The trend is also of a single child household. Often, the child has just the maid and the idiot box as mates. The joint family has become a fragmented 'nuclear' reality in our disjointed world. No giggling children, no comforting elders and no aunts and uncles' shoulders to cry upon!
Renee Writes


I am 26 and recently started doing my pilot training. I have studied for an MBA course after finishing my graduation. I feel my destiny lies in being a pilot. My problem is my lack of confidence in myself. I feel shy and tongue tied in company. Also, I feel my knowledge of English is not very good so I hesitate to open my mouth most of the time. Can you suggest me some way to overcome my shyness and learn to interact with the outer world at a better level. I feel that my nature is not allowing me to shine in any direction. Life seems dull and meaningless. Please advise.
Two to Tango: These two girls pair up for a shopping spree in Sector 8. Photo: Vinay Malik