M A I N N E W S
Sikh ultras may target Delhi Games
Jangveer Singh
Tribune News Service
Chandigarh, July 23
In an alert that, if true, would test the preparedness of our security agencies, intelligence units of Punjab Police have warned that foreign-based Sikh militants were planning to return to the state to engage in sabotage activities with the help of their local conduits. And that the Commonwealth Games, being held in October, too, could be on their radar.
The office of the Punjab Additional Director General of Police (Intelligence) had, in a note on May 28, informed all commissioners and district police chiefs that Sikh militant leaders were under pressure from their Pakistani masters to carry out sabotage activities and that prominent militants could return to the state.
The note mentioned that militant activities, including bomb blasts, could happen before the Commonwealth Games and that Khalistant Zindabad Force head Ranjit Singh Neeta had successfully smuggled 15 kg of RDX into Punjab. The report said one part of the consignment, which had been later recovered from Ferozepur, had been delivered in Rajpura and that two other consignments were likely to be delivered in Nawanshahr and Balachaur and in Sirsa district of Haryana.
The note said the third consignment was meant for a strike against controversial Dera Sacha Sauda sect chief Gurmeet Ram Rahim Singh, who has invited the ire of the hardliners by allegedly projecting himself similar to tenth Sikh Guru Gobind Singh.
An intelligence official, when asked about the input, tried to put it in perspective saying if nothing had happened since May when the input had been referred to police officials, there could be chances of it not proving correct. The official maintained there was no need for a panic on the issue.
Meanwhile, the intelligence input also stressed that a new trend was being witnessed with the uncovering of modules of foreign-based Sikh militants. The input said there were two specific cases, with one being the killing of Rashtriya Sikh Sangat chief Rulda Singh in Patiala. It said foreign-based militants who had come to India especially for this task had done the killing.
In another case, the input said, Baba Bakshish Singh had returned from abroad had raised a module. The module had planned blasting the Indian Oil Corporation bottling plant at Nabha and also the Indian Air Force (IAF) station at Halwara. One member of this module, Harminder Singh alias Raj, had reached Indian from either Malaysia or Pakistan. The report said this module used local people who provided the militants with accommodation and conveyance. It said the module members did not use mobile phones, which made it difficult to track them.
It is in this context that the Punjab Police intelligence agency received information that foreign militants, particularly Ranjeet Singh Neeta, could enter India to target the Commonwealth Games. Militants identified in the report include Balwinder Singh from Britain, Jassi (earlier residing in Italy and now based in France), Rana from the United States and Pamma, who was involved in the killing of Rashtriya Sikh Sangat president Rulda Singh in Punjab last year.
1,300 live cartridges, magazines seized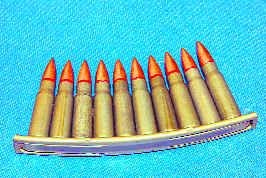 Mandi Ahmedgarh: A bag containing 1,300 live AK-47 cartridges and 23 magazines were today seized from Sirhind Canal near a religious place at Karamsar under Payal sub division.
Though the partially rusted condition of the ammunitions suggested that some militant group abandoned them. Its dramatic recovery from the riverbed has left many questions unanswered.
The Payal sub divisional police has initiated a probe into the incident after registering an FIR under Sections 25, 54, 59 of the Arms Act. Investigation by the Tribune revealed that a bag containing a rich haul of live cartridges of AK 47 and empty magazines was fished out by a group of children bathing in Bathinda branch of Sirhind Canal near a religious place at Karamsar village near here this afternoon. While the children felt joyous over the thought of earning money after selling the material to a scrap dealer, a passerby informed the police about the incident.