This Above all
Exploits of dacoits
Khushwant Singh

Annie Zaidiís Known Turf has been lying in a heap of books I plan to read. Despite its unappetising title and jacket, I did get down to it because it had been recommended by P. Srinath and Tabish Khair, whose opinions I value. I was not disappointed. Zaidi writes of her encounters with Chambal Valley dacoits, including Phoolan Devi, and half a dozen male gangs.
What emerges is the fact that most of them killed rival gangsters and not common people, for the simple reason that they encroached on their sources of income. She heard of the exploits of the legendary Sultana daku, watched films based on the lives of dacoits, notably Gabbar Singh.
My own limited knowledge of dacoits goes back to my childhood in Hadali village. The most dreaded name in the desert region of the Jhelum river was that of Tora daku. He was known to have killed dozens of rivals and members of his own gang, who had questioned his leadership.
He and his gang visited Hadali in broad-daylight, rifles slung on their shoulders. As word went around, people shut their front doors, and a deadly silence enveloped the village. Among the many doors he knocked on with the butt of his rifle was ours.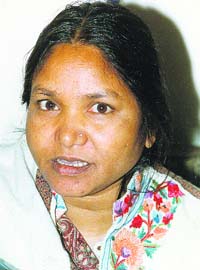 Author Annie Zaidi has written about Chambal Valley dacoit Phoolan Devi (above) in her book Known Turf
My grandfather would open the door to let him in. They embraced each other like lost friends. My grandmother would serve him pinnees (gur ladoos) with tea, and offer the same to his men, who stayed outside. He addressed her politely as Vaddi Bhain; she called him puttar (son). After he had finished, my grandfather would give him an envelope full of currency notes. Tora counted them before putting them in the pocket. It was not robbery, but protection money to ensure that no other gangster would come to our home. The gang visited a few other Hindu and Sikh houses. Before leaving, he said: "Allah hafiz." No one dared to lodge a report against them to the police. He also helped poor parents with money for marriages of their daughters. Annie Zaidiís collection has good reportage, peppered with humour, and is most readable.
Name the poet
I have carried Shankar Senís poems in my columns more than once. He wrote to say that he is busy translating Buddhadev Guhaís epic novel Madhukari into English. Guha has quoted a few couplets in Urdu without naming the poet. I am unable to do so. I invite readers to do so. I reproduce both original Shankar Senís translations:
Tarruph rog ban jaye, to usko bhoolna behtar;
Taaluk bojh ban jaye, to usko torna acchha
(If familiarity becomes oppressive, it is better to forget it; if a relationship becomes a burden, it is better to break it).
Wo afsaana, jise, anjaam tak, laana na ho mumkin;
Usse ek khubsoorat morh deykar;
Chhorna acchha
(If an affair is not easy to carry to its conclusion, it is better to give it a beautiful turn, and let it go).
Gustakhi hum sey hogi sirf ek baar;
Jab sab challengey paidal;
Aur hum hongey kandhey pey sawaar
(I shall be at fault just once; when others shall walk on foot, and I shall be borne on their shoulders).
New convert
A Parsi of ill-repute chose to seek forgiveness for his sinful ways through baptism. So he decided to recast his will. Instead of a Zoroastrian priest, he summoned his lawyer and his doctor, and asked them to stand on either side of his death bed. "Why do you want us beside you at this time," they asked. Replied the recently baptised Zoroastrian: "I want to die like Jesus Christ with two thieves on either side of me."
(Contributed by B.T. Mody, Bangalore)
Revised maxims
Love thy neighbourís neighbour. To err is human; to blame others is good politics. Self before service. Be Indian, buy foreign. An onion a day, keeps everybody away. Behind every unsuccessful man, there are many women.
(Courtesy: KJS Ahluwalia, Amritsar)