Big on small screen
Growing bigger in proportion and popularity, the Indian television industry is certainly drawing in stars from Bollywood

So, Bollywood finally seems to have crossed the final barrier. There were special guest appearances; cameos, star hosts and celebrity reality show contestants. But then that wasn't enough. So, they went a step ahead. Hey, we are not talking Hollywood here, instead a bigger phenomenon - the Indian television industry.

Ronit Roy with Avika Gor
Heeling touch
From six inches above the ground, it's a bad world down there. Callous and unkind, most of the time it's bothered about petty issues like a sequin missing in the sequence, inappropriate colour scheme, improper finishing. The rest of the time it's busy appreciating the design, cut and silhouette. Who has time to spare a thought for the poor feet that introduce fashion to the world?

Getting real, Online
Just when we thought we had enough of reality on the reality shows, ibibo announces the first online reality show. Makes sense! With the entire world hooked on to networking sites, this reality show sure gets its share of brownie points.


khalid hashmi
Lunch hour
Even after a healthy breakfast, one shouldn't ignore the lunch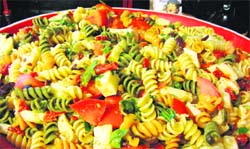 We have adapted ourselves into believing that breakfast is the most important meal of the day, something that should not be missed at any cost. But then it isn't the only meal of the day we have. With due respect to all nutritionists, diet experts and health columnists of the world, breakfast is taken care of. Lunch, well, it's something we still take for granted. When in school, the only thing that excited us was the recess. Status was decided on the basis of contents of the tiffin box.
Bon Appetit
Zucchini ki Kahaani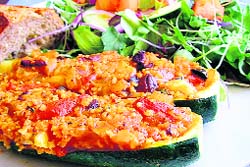 At first sight, you'll think its a cucumber. At second glance, it could well be a "turaii" that has lost its ridges somewhere along the way. The green, glossy zucchini is a relatively new entrant in our vegetable markets. In Europe it's more known as courgette. Most buyers are skeptical about how to treat this shiny gorgeous looking member of the squash family. It's really quite versatile, making its way into casseroles, stir fries, soups and salads with equal ease. It adapts extremely well to baking, crumb-frying, stewing and being eaten raw in salads.
Fad chance
Experts have warned that non-dairy or wheat-free fad diets could be putting young women at risk of developing osteoporosis in later life. Research has shown that nearly a third of women are so keen to shed those extra kilos that they are cutting out entire food groups.
Melodious note
Negating the general belief that artistes are born and not made, Manimajra-based Uma Patial took to the realm of vocal music at the age of 19, only to excel thereafter.
Bleachful state!
Jolen, the company, which gave the world, the concept of crème bleach, has come out with yet another innovation in response to the void and need for a speciality crème bleach for extra-sensitive skins.
Skintillating!
Now here is a solution to all your problems with the launch of Shilpa Skin Renewal Gel that requires no scrubbing or massaging, but works all by itself from within. You just need to apply the gel on your face, relax and wash it off after 20 minutes. Shilpa Skin Renewal Gel contains rose water, bilberry and fruit extracts rich in AHA that work wonders on the skin. This exfoliating gel is an oil-free formulation suitable for all skin types that rejuvenates the skin by removing dead cells.
Right to rage?
Mad Max star Mel Gibson's anger at ex-girlfriend Oksana Grigorieva may have been caused by "righteous rage", say experts. According to CNN.com experts said what causes a calm individual to morph into an out of control monster in a traffic jam, may stem from a survival instinct.


Mel Gibson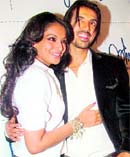 Diamond mine!
Bollywood actor Bipasha Basu said her boyfriend John Abraham is her diamond supplier, and whatever diamonds she boasts of, are gifted to her by him. She said this at an event to promote a range of branded jewellery in Mumbai on Wednesday. Talking about her own engagement ring she said that it should not be too big or too small, but just the right size for her finger.




Bipasha Basu and John Abraham
Stars shine down
Bollywood stars made their presence felt at Manav Gangwani's show at the ongoing Pearls Infrastructure Delhi Couture Week(PI-DCW) here Thursday with Dia Mirza, Riteish Deshmukh, Aftab Shivdasani, Jacqueline Fernandez, Soha Ali Khan, Kunal Kemu and Zayad Khan coming in to cheer their designer friend.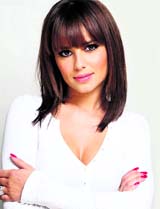 For crying out (A)loud
Girls Aloud singer Cheryl Cole has stepped up security at her Surrey home after her split from Ashley. A number of new bodyguards have been deployed at the 27-year-old singer's home near Godalming, including heat sensors and new cameras. Cheryl has also increased the frequency of patrols by private guards. "Cheryl has made a few changes at home.






Cheryl Cole
Wardrobe bonding
Katie Holmes is smitten with the wardrobe belonging to Jackie Kennedy. The actor can't stop gushing about the wardrobe belonging to the former First Lady, whom she plays in The History Channel's upcoming miniseries The Kennedys. "Her clothes were magnificent," she said.
Age no bar
Hollywood star Cameron Diaz still feels like a 14-year-old boy at heart even though she is rated as one of the world's most beautiful and successful actresses. Although her life is now completely different, the Knight and Day actress, who shot to fame at the age of 21 when she starred alongside Jim Carrey in The Mask, insists deep down she is still the same person she used to be. "I've certainly grown up. I'm much more mature than I used to be. I'm still a 14-year-old boy at heart but my life is totally different to how it was when I was 27," She said.
Die Hard lover


Die Hard star Bruce Willis has revealed that his wife Emma Heming is the reason behind his happy life. According to the Sun, Willis, 55, who divorced Demi Moore in 2000 after 13 years of marriage, confessed he was "single and unhappy" for 10 years until he met Heming, who he married last year.

Bruce Willis
Back on track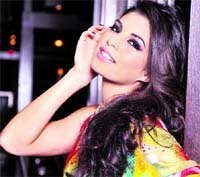 Former Sri Lankan beauty queen Jacqueline Fernandez is set to be the showstopper at designer Raakesh Agarvwal's show at the ongoing Pearls Infrastructure Delhi Couture Week and says she is excited to relive her days as a model. The show is scheduled for the concluding day of the couture week Sunday. "It's great that I am still getting a chance to be on the ramp. That's one great thing about female actresses here that you can get your little moment on the ramp every now and then.

Jacqueline Fernandez
Hear & tear
Troubled singer Amy Winehouse, reportedly broke down in tears after watching the video of Lindsay Lohan being sent to prison.