1 killed, 20 injured in MIG crash
Subhrangshu Gupta
Tribune News Service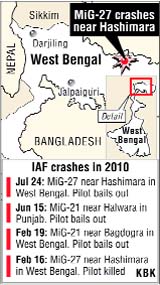 Kolkata, July 24
A MIG-27 aircraft of the India Air Force today crashed at the Mynaguri village, Jalpaiguri, about 30 Kms from Bagdogra Air Force base which caused the death of a farmer Bollen Roy (37) on the spot.
Some 20 villagers were also injured, according to reports reaching the state government headquarter at Writers Buildings.
The plane crashed during a routine rehearsal by the pilot after he took off from the Hashimara air base in the morning.
The Air Force authorities suspect sudden engine failure to be the cause of the accident.
The pilot and the co-pilot sustained injures and were admitted to the hospital.
An official inquiry has been ordered.