Food talk
Check out these crispy croquets
Tasty, healthy and easy to make, mini croquets can tempt children as well as adults
When children return famished from school or the playground, they need immediate replenishment of energy — nothing makes them scowl more than monotonous fare — boring sandwiches or 'parantha wraps'. What they dream of are bite-sized, no-fuss nourishment that can be grabbed in a hurry on the run to resume the fun. `A0The challenge is to tempt them with something new and nourishing that can be happily shared with friends. This is where croquets can outshine most competitors.
Croquets are not very often encountered these days. One can have cutlets or tikkis disguised as burger patties but the mini-barrels, which pack a mighty punch, have all but disappeared from most family menus. These dainties belong to the culinary repertoire of the Raj and belong to an era when high tea was a ritual, both sacrosanct and substantial. Delicate finger sandwiches, muffins and tartlets accompanied the light aromatic Darjeeling tea. But we digress.
Children are not impressed by exotic foodlore; they judge the edible stuff strictly on merits. Blissfully, the croquets score high on every count. These are tasty, easy to make, healthy and can be paired with ketchup and mustard. What is more, they can be relished hot or cold and offer great scope for improvisation. The recipe we share with our dear readers this time is a take-off on a Calcutta-Anglo-Indian chop that was stuffed with mutton mince.
The variety presented here is vegetarian and can be packed with your choice of baked beans/chhole or spicy minced sprouts. Come to think of it, the stuff can tempt even the adults at teatime.
mini croquets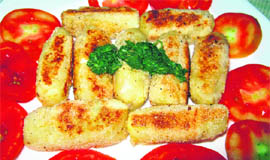 Ingredients
Boiled potatoes (mashed) 100g
Paneer (crumbled) 50g
Egg (hard-boiled, optional) one
Baked beans in tomato sauce 2tbsp
Sprouts (minced) 2tbsp
Hara dhania (chopped finely) 1tbsp
Garam masala `BD tsp
Dried bread crumbs `BC cup
Oil 1tbsp
Salt to taste
Method
Blend the mashed potatoes and paneer. Add salt and garam masala while mixing. Chop the egg whites, if using. Divide the potato-paneer mix in equal portions and shape into small balls. Flatten into discs and place a small amount of beans, sprouts and egg whites, if using, with hara dhania in the middle. Reshape as balls and then press to obtain mini-sausages. Spread the breadcrumbs on a plate and roll the mini-sausages in breadcrumbs evenly. Line a non-stick fringe pan with a thin film of oil and carefully pan-grill the mini-croquets on medium flame ensuring that these do not break. Enjoy.