Globoscope
Action-heavy drama
Ervell E. Menezes
A pedestrian screenplay, dotted with cheap humour and no acting skills to speak of, makes the 90-minute-long Losers seem endless

Whatever happened to Hollywood these days? Gone are those strong original stories, romantic comedies or portrayals good novels? Today it is often TV serials or comic books turned into films and donít they invariably fall between two stools? Are they lacking in ideas or do they chose the easy way out?
Losers is an extension of the mindless, action-heavy The A Team, said to be (in the promos) better than it, may be because here thereís a five-man army in contrast with four of The A Team. But does quantity mean everything? This tale of betrayal and revenge is set in the jungles of Bolivia where this elite US Special Forces team is operating.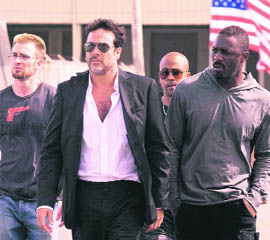 Thereís little to choose between heroes and villains in Sylvan Whiteís Losers
Clay (Jeffrey Dean Morgan) is a colonel and heads the pack and his resemblance to a salad days Rock Hudson is probably his only endearing factor. With him, is his right-hand knife-wielding man Rogue (Idris Elba), girl-crazy techie Jensen (Chris Evans), transport expert Pooch (Columbus Short) and quiet but deadly sniper Cougar (Oscar Jaenada). If these are not a handful or rather a mouthful, they run into kung-fu champ Aisha (Zoe Saldanha of Avatar fame), who joins as she has an axe to grind.
The villain, of course, is a suit-wearing Max (Jason Patric) and his deputy Wade (Holt McCallany), an international smuggler, arms dealer, all rolled in one. It is this motley lot that director Sylvan White has to contend with. The screenplay is pedestrian, dotted with cheap humour and thereís little to choose between the heroes and the villains.
Itís hard to keep track of the plot in this anything-is-possible drama. Tanks crash through buildings, rockets are fired at airplanes and copters with FX teams working overtime, it can be visually satiating for the sadistic but it is surely the lowest depths to which Hollywood has shrunk.
Itís just 90 minutes long but seems endless with no acting skills to speak of. Yes, losers they really are which about says it all.