Women on a roll
Indian women have realised that the concept of saving is a thing of the past. They spend lavishly, live in luxury, and have ensured the same comforts for the future, writes Vimla Patil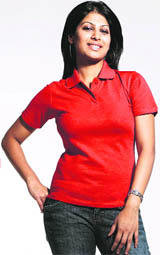 When Tiara Singh, a 30-year-old executive in a foreign bank, inaugurated her small new flat in suburban Mumbai, she literally danced around in the empty rooms with joy. She says: " I was overwhelmed at my own strategy and skill with which I handled all the complicated paperwork. I can now advise my single women friends on how to acquire a property in the buzzing Mumbai city by working through the mesh of locating the right place, negotiating the price, doing the paperwork, and, finally, taking possession after paying the down payment."
"Today, the market is friendly to young people who want to live well and save wisely for the future," continues Tiara "Builders, banks, financial advisers, and the art market and gold and silver designers are well aware that the majority of Indians today are under the age of 35, and they plan their selling strategies to suit such people who are young, highly qualified and earning big incomes. People like me can get anything, provided you are regular in paying the EMIs and are a good financial planner," says.
Ragini Mathur, a young medical graduate, has chosen to return to India after qualifying from a US university in paediatrics. "I could have got a lucrative job in the US. But I chose to come home because this market is ideal for young people. I saved enough money during my internship in the US to buy a flat in Mumbai, and have enough money to sail through life until my practice earns me a good livelihood. I know many finance industry experts who are returning to India because it is possible to have a good life here with saving to create future assets," adds Mathur.
With India's employment market opening up on an unprecedented scale in the past decade, and more and more women coming into the high-end work force, the investment market has turned around in a major swing to serve the needs of this newly affluent and clever brigade. Surveys show that almost 40 per cent of the employees in the flourishing banking sector are women with high qualifications/high incomes. They are investment advisers and strategy planners as well as managers for celebrity clients. The hospitality industry is also flooded with intrepid women who occupy high positions.
So also, the media – which is expanding at tornado speed – has high-earning women writers, directors, stylists, producers and managers in plenty. Bollywood, a male stronghold not so long ago, has become professional and employs highly-paid women directors, writers, lyricists, musicians, technicians and set designers in addition to actors. "Whoever offers exceptional talent and the ability to work hard to achieve the company's aims, is welcome in today's market, and is rewarded handsomely," says Vinita Jain, who is training to be a newscaster. "I have a car to bring me to work and drop me home. I live in a comfortable flat and have excellent working conditions. I use my income to enjoy the activities I love – travel, eating out, buying clothes and shoes and, generally, chilling out with my friends on week-ends. But looking around among my friends, I know that we are responsible earners and do try to build our assets as and when we can. We find that banks have advisory cells for guiding us and there are investment advice companies as well as individual experts who can guide us."
What Tiara, Ragini and Vinita say is echoed in the lives of millions of women in India today. At all levels, the entry of women in the work force has galloped ahead because of several reasons. Firstly, the cost of living is so high even in villages, that families are forced to set women to work in whatever area they can. Waves of women come to urban complexes to live in shanties, but work diligently to produce minor wealth for their families in terms of education, possessions like fans, refrigerators, TVs or cell-phones, while they themselves are on a journey of discovering the concept of 'un.
Secondly, a huge number of middle class women today have unprecedented opportunities to create wealth for their families even as they too enjoy holidays and parties. Lastly, urban families at the top of the pyramid treat their daughters and sons as equals and give them the same educational and career opportunities. In the last category are a huge number of young women who travel, and women who set up their own businesses, and who are clever enough to secure their future with correct investments, even as they have an opulent life of enjoyment. These are the women who are seen spending in the glittering new malls and restaurants, at sales of branded goods and on organised holiday/foreign tours with or without their young families.
They also spend on their hobbies, acquiring new skills and beauty treatments to remain fit and attractive. When such women are married to equally high-earning men, the joy of spending doubles; so does the need for saving. Millions of young women and their partners own their homes today and possess more assets by way of jewellery, appliances and cars than ever before.
Indian women are on a massive move. They are learning that the old-world concept of scrimping and saving is a thing of the past. But spending on a good life and saving enough to ensure the same good life for the future is an art that has to be mastered for happiness and success. They are turning out to be better money managers than ever before.