The city of skylines
Everything about Chicago is larger than life – be it its vertical urban landscape that gave a new meaning to modern architecture over a century ago, or the revolutionary personalities, who redefined contemporary social and political norms, writes Sudha Mahalingam

Gazing in wonderment at traffic speeding 1,450 feet below my feet makes me dizzy. I am in what they call 'skybox' sticking out of the side of the 108th floor of Sears Tower, the mother of all skyscrapers in North America in the city of Chicago. The skybox is made of glass, not just its three sides, but even the floor is sheet glass. You step onto it gingerly, hoping you never hear the dreading sound of splintering glass, as the mind conjures up images of a great fall.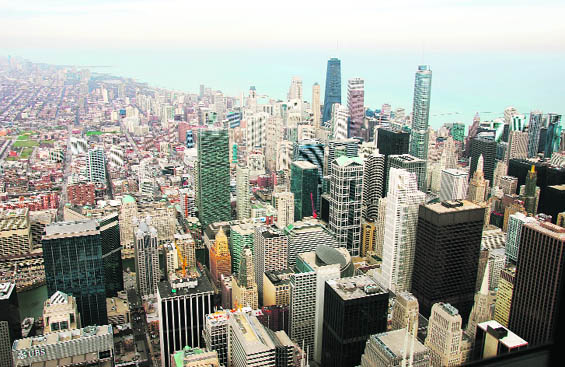 A forest of skyscrapers constitutes the Chicago skyline
If you manage to overcome this dread, the reward is an amazing view of a forest of skyscrapers that constitutes the Chicago skyline. Sears Tower, now re-christened Wills Tower, dwarfs them all around it.
Everything about Chicago is towering and larger than life – be it the vertical urban landscape that redefined the rules of modern architecture over a century ago or the revolutionary personalities who redefined contemporary social and political norms. After all, it was Chicago that produced Martin Luther King Jr and more recently, Barack Obama.
This was also the city that spawned the most dangerous gangsters – Al Capone loved Chicago – hideous hoodlum haunts and venal gambling dens.
Chicago is perched on one of the largest lakes on the planet. It is visible even from outer space. In the evening, the setting sun turns Lake Michigan into a molten expanse of silver.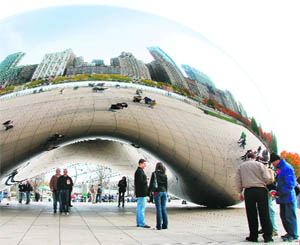 The Millennium Park has a unique contraption called Cloud Gate, designed by India-born British artist Anish Kapoor Photos by the writer
While the aerial view of the city, both from the plane and from Wills Tower is fantastic, don't miss out on the worm's eye view and the tunnel effect you get as you glide in a boat through the city's meandering waterways or pedal through its vibrant streets. There is also an architectural tour of the city by boat. Hemmed in by soaring towers on both banks of the canal, their glass frontage reflecting psychedelic and contorted images of the buildings opposite, the effect is art nouveau of a unique style. These boat tours are conducted by Chicago Architecture Foundation and give an authentic account of the city's architectural history.
After the great fire of 1871, which burnt the entire city, razing all buildings to the ground and killing hundreds of its residents, the resilient Chicagoans rebuilt their city almost immediately and set ablaze a new trail in modern architecture.
Today, the defining features of Chicago skyline are its acres of glass and reinforced steel, buttressed by tube-frame construction, pioneered by a Bangladeshi engineer Fazlur Khan.
In a reflection of its eclectic and inclusive culture, the Chicago art scene seems to have its fair share of Asian and African contributors. For instance, the Millennium Park has a unique contraption called Cloud Gate, designed by Indian-born British artist Anish Kapoor. Kapoor competed with many worthies to get his handiwork selected. Inspired by mercury, the Cloud Gate is made entirely of reinforced steel. Much like a concave mirror, it contorts and reflects Chicago skyline in its many crumpled shapes and is an eye-catching piece of novel art.
Chicago by night is a neon-city. Millions of lights lend an ethereal glow to this city perpetually blanketed in fog. The trendy bars and nightclubs come alive and the mood is festive, forming an electrifying nightscape that holds its own against any in the world. Busy sports bars and pubs, including the immortal Murphy's Bleacher's and Old World-style Irish Oak Pub entice you with their seductive neon signs. There is also that quintessential American institution, the House of Blues with its art-deco interiors and scintillating music. At the entrance, a signboard proclaims B. B. King's famous line "Nobody loves me but my mother, but she could be jiving too". What better way to fight your blues with the collective rhythm when indeed, everyone seems to be jiving as if there's no tomorrow.
Fact File
How to get there: There are direct flights from Delhi to Chicago by American airlines. Chicago airport is well-connected, second largest airport in the US.
What to see and do: The skydeck at Wills Tower presents awesome and panoramic views of Chicago. Open daily April-September-9am until 10pm; and October-March 10am until 8pm. Last entry 30 minutes prior to closing. Ticket price for adults is $15.95. Admission and skylights tour costs $ 21.45
Take the architecture tour by boat (ticket- $ 36). It is 75-minute tour many times a day. Daily architecture cruises showcase Chicago's bold architecture. Skyline lake tours highlight the city's exciting history and famous landmarks. Water taxis ply both the Chicago River and Lake Michigan.
Adler Planetarium and Aquarium (ticket $16)
Millennium Park and Cloud Gate (entry free)
Field Museum (ticket $19) to watch Sue, the largest preserved T-Rex.
Navy Pier for tacky kitsch (free entry)
An open-roof double-decker hop-on hop-off bus for a visual treat of the city costs $28 per person
There are plenty of museums, including one on contemporary art, another on photography and on Afro-American culture
For night-life enthusiasts there are numerous pubs/bars or R&B
What to eat: Chicago offers plenty of Italian food, from deep-dish pizza (developed in 1943 at Pizzeria Uno) to delicately crafted dishes at stylish trattorias. Eastern European, German, Mexican, Chinese, Indian, and even Burmese and Ethiopian cuisines are available. A number of establishments serve good old-fashioned barbecue ribs, a legacy of Chicago's days as the nation's meatpacker. A sampling of messy Italian beef sandwich, or a Chicago-style hot dog, laden with tomatoes, onions, hot peppers, and pickle is a must.`A0For those who can't live without Indian food, check out Klay Oven, Chutney Joes or The India Grill.
Where to stay: Hotels to suit all budgets from high-end Four Seasons and Peninsula to mid-segment Marriott Down Town, while Chicago Getaway Hostel offers rooms for as little as Rs 1,600 per person per day
(Entry tickets and other rates keep varying. Please check online before departure)