Spiritual frames
Avantika Shrivastava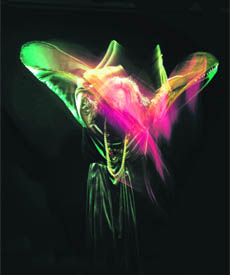 A series of photographs on Sufism by maverick lensman Ashok Kochhar seek to clear the mist on spirituality
While the fracas of modern-day living continues, a collection of intense photographs by maverick lensman Ashok Kochhar seek to part the mist on spirituality and offer a journey to the inner self.
Titled The Journey of a Mystic, a series of 30 photographs on Sufism was on exhibit in New Delhi recently. It represented what Kochhar calls "spiritual art photography."
"I create images where there is nothing," says the photographer, who left his engineering job to dabble as a painter and later took on photography.
"My work is inspired by spiritualism. The first chapter is on Sufism and the other two are based on Lord Krishna and Buddha," says Kochar.
The 30 plates on display were dominated by brown, green and black, and represented evolution and its various stages, like the quest for knowledge, truth and various other desires.
"I take the brown from the desert from where Sufism is said to have originated. There is the thirst for green in those areas. I have used black as it signifies the beginning and end of life," says the lensman. Taking inspiration from an "inwardly" experience or the emotions and thoughts within, his work, says Kochhar, is an expression of the uniqueness he sees in everything.
The photographer believes his work will help viewers go back "with little solace and peace."
With technology changing the face of photography, Kochhar says there is an option for photographers to either be a "slave" or "master," and avoid the "cliches" that creep in.
"To rule the technology, then I have to go 'inward' and create some images which technology can polish a little bit, but I create those images."
He is also confident that the "flame" that he has ignited through his conception of 'spiritual art photography' will be carried forward. "I want to create this series, never-ending series," he says. Colours of Life and Dhamma are part of his series that will be showcased around August and November this year. — PTI