Destination Bollywood
With foreign beauties making it centrestage in Hindi films, Nirupama Dutt checks out the trend as firangi girls make hay in Bollywood sunshine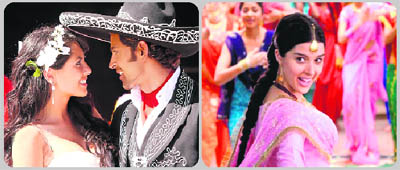 | | |
| --- | --- |
| Barbara Mori made her Bollywood debut in Kites opposite Hrithik Roshan | Giselle Monteiro played an old-fashioned Punjabi girl of the 1970s, in Imtiaz Ali's Love Aaj Kal |
Brazilian beauty Giselle Monteiro was trying to get the role of Saif Ali Khan's caucasian girl Jo friend in Imtiaz Ali's Love Aaj Kal, but landed up playing Harleen Kaur, the old-fashioned Punjabi girl of the 1970s, opposite Rishi Kapoor in the same film.
"I was looking for a Punjabi girl and Giselle seemed to fit the bill," says Ali.
This shows how the firangi belle has been accepted in the desi girl image and this is no one-film wonder. Giselle is the face of many a popular Indian brand and is now all set to endear audiences in her second film entitled Always Kabhie Kabhie. Besides she won the Star Screen and Stardust awards for the 'Most Promising Newcomer' and 'Most Exciting Face'.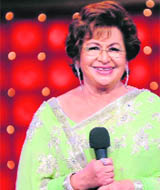 Anglo-Burmese actor Helen reigned supreme in the Hindi film industry for several decades but mainly as a queen of the nautch girls
This is incredible even though Bollywood has had its tryst with foreign-origin leading women quite early. Mary Ann Evans was born in 1908 at Perth in Western Australia. Her father was a Scotsman in the British Army and mother a Greek dancer and actor. Mary came to Bombay in 1913 and in the 1920s she was a famous Bollywood star. Yes, we are talking of none other than 'Fearless Nadia' or 'the Hunterwali'. She was perhaps the first foreign woman in Indian films but she remained typecast as stunt queen.
When it came to social and romantic themes like the leading ladies to be feminine with the right latka and jhatka in Hindi cinema, it was Anglo-Burmese Helen, who reigned supreme for several decades in Hindi films though mainly as a queen of the nautch girls. Nadira, that girl from Baghdad, had to opt out from leading roles to be the vamp and move to character roles in her old age. The Kapoor bride Jennifer gave some memorable roles, including that of an Anglo-Indian school teacher in Aparna Sen's 36 Chowringhee Lane, which was much applauded but when it came to awards, she lost out to the luscious South Indian actor Rekha in Muzaffar Ali's Umrao Jaan. Both films were released in 1981. Anglo-Indian actors of famed beauty like Leela Naidu or Priya Rajvansh, too, were able to break the desi bastion.
However, today a mini-revolution is taking place in Bollywood with foreign beauties making it centerstage in Hindi films. It is not that Hindi cinema has not had foreign actors but rarely were they accepted as the mainstream leading lady and had to make do with stereotypes or just wiggle and waggle their way through dance numbers.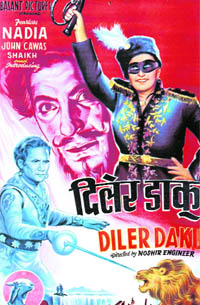 'Fearless Nadia', also known as the 'Hunterwali' was perhaps the first foreign woman in Indian films, but she remained typecast as stunt queen
A few decades ago, the popular desi actors just had to wear a pair of blue contact lenses and a golden wig and pass off as the videshi girl as Saira Bano did with aplomb in yesteryear.
But no longer, Bollywood has now opened up to the foreign beauty like never before. The reasons for this can be found in globalisation and the Indian girls, too, exceedingly going western to meet the international demands. The change in themes, music and dance, moving away from Indian folk and classical to the western pop and hip-hop, too, seems to be playing a role in favour of the imported stars.
Interestingly, reigning over the silver screen and serving as the common man's fantasy is no voluptuous ghattan or well-endowed Punjaban but a Hong Kong-born Briton Katrina Kaif (born Katrina Turquott), who proved to be a lucky mascot for Akshay Kumar. Since the release of her film Namastey London in 2007, there has been no looking back for her. More recently, she was the ideal choice for someone who could look like Sonia Gandhi in Rajneeti, Anurag Basu's successful take-off on the currents and undercurrents of Indian politics. To begin with, her voice was dubbed but now she speaks her own dialogues in Hindi with just a lacing of a western accent.
The latest kid on the block is Barbara Mori, who boasts of an Uruguayan-Japanese and Mexican heritage. A model and television soap opera star, she made her debut in Bollywood with Kites, opposite Hrithik Roshan.
According to Rakesh Roshan, producer of the film, "Kites had a global theme and the plot had a Latino dancer falling in love with a con artist. We needed a foreign actor and Barbara fitted the bill."
Things seemed to be clicking at a variance from yore. Could those seeped in the Devdas cult ever imagine a foreign girl playing Chandramukhi, the Sonagachi courtesan? Certainly not. Going back through the many versions on celluloid of this popular Sarat Chandra novel, we find Rajkumari as Chandramukhi opposite K.L. Saigal, Vyjayantimala opposite Dilip Kumar and Madhuri Dixit opposite Shah Rukh Khan. But come Dev D, with its very contemporary interpretation by Anurag Kashyap and we have Pondicherry-bred girl of French origin doing Chanda, alias Chandramukhi, in a Paharganj brothel in Delhi. Audiences and critics just loved Chanda and she won the prestigious Filmfare award for the best supporting actor. She is Kashyap's choice once again in The Girl in Yellow Boots. Besides, she has roles in Ram Gopal Varma's Happy Journey and Zoya Akhtar's Zindagi Na Milegi Dobara.
So it seems the foreign belle is here to stay in Bollywood and the audiences have accepted it just as peer groups accept the foreign bride or have rather celebrated the gori dulhan as a feather in the cap, the male lead of Hindi cinema continues to be home-bred. It will take some time before the foreign guy finds a place in Mumbai cinema.
Second Coming
Many will recall the pretty Rusian girl who trapezed here way into the hearts of the cinegoers in the 1970 Raj Kapoor's semi-autobiographical extravaganza Mera Naam Joker. She was the Russian actor Kseniya Ryabinkina. Raj Kapoor playing Raju falls in love a third time with her and his heart breaks when the circus ends and Kseniya returns home.
That was then but now Kseniya, frail at 70, returned to India to play a role in Chintuji, a film loosely based on the life of Rishi Kapoor, youngest son of Raj.
Producer Bobby Bedi traced her through the Russian High Commision and the unit was thrilled when she agreed to come for the film in spite of her age and poor health. She shot for the film with Rishi at Paragpur village near Chandigarh.