TELEVISION
Ghost busters
The series is a classic interweaving of drama and the supernatural. Supernatural on Saturdays at 11 p.m. on AXN is the story of two brothers, Dean and Sam Winchester, who had lost their mother to a mysterious, demonic force. Subsequently, their father taught them how to eliminate the paranormal evil that lives in the dark corners. However, before he finished, the father, too, goes missing.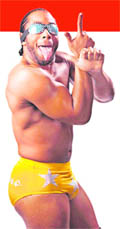 TNA Impact is the highest-rated wrestling show in the world
The brothers crisscross the dark and mysterious back roads in their '67 Chevy Impala hunting down evil supernatural forces like vampires, spirits, revenants and reapers, who seemingly exist only in folklore, superstition and nightmares. They continue their search for the demon that destroyed their family while uncovering the dark secrets buried within their own family history. The brothers want to do the impossible — kill the devil himself and rid the world of the root of evil.
Fighting fit
This is dubbed as the biggest fight of the season. ESPN Star Sports recently invited three of the legendary TNA (Total Non-stop Action) wrestling stars — Jay Lethal, Mick Foley and Kurt Angle — on a six-day promotional tour of India. These three stars were here to promote the two professional wrestling programmes TNA Impact, which is the highest-rated wrestling show in the world. For the first time, fans in India were able to get up close and personal with these iconic action stars, who enjoy a passionate worldwide fan following. They are in gut-wrenching action every Friday on 9.30 p.m. on Star Sports. — NF