The Elderly Surgical Patient
Growing Concern
Dr J.D. Wig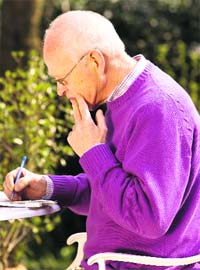 Adults aged 65 years or above, classified as the elderly patients, constitute the fastest growing segment of the population. Very elderly are defined as those older than 85 years. The care of the elderly involve physicians, surgeons, radiologists and intensive unit care specialists. Elderly patients require specialised care due to problems associated with deteriorating organ function, minimal organ reserve, blunted response to stress and general overall frailty. A coordinated approach to diagnosis and management should serve to optimise a favourable outcome in this vulnerable group of patients.
Older patients are potentially being under-treated out of concern that other coexistent medical comorbidities, typically cardiovascular or neuro-degenerative diseases, may place them at a higher risk. The outcome of these conditions can be influenced by the use of aspirin and other anti-platelet and anticoagulation drugs.
A few common conditions that may necessitate admission in these patients are hernias, gallstones, cancer, acute abdomen (intestinal obstruction, perforation, etc), gastrointestinal bleeding (upper and lower) and intestinal ischemia.
It has been observed that there may be a delay between the onset of symptoms and the presentation of an elderly patient to the hospital. This delay may result from difficulties in leaving home, fear of hospitalisation, alteration in usual symptoms and diminished perception of them, or diminished ability to express themselves effectively. For example, individuals with dementia , may not be able to communicate changes in their health. More patience and diligence is required in evaluating clinical symptoms and signs in the elderly.


Good communication is essential.
Medical advances have improved surgical out come in elderly patients.
It is unwise to defer surgery on the basis of age alone.
Common conditions include hernias, gallstones, cancer, acute abdomen, gastrointestinal bleeding and intestinal ischemia.
Unnecessary delay may result in aggravation of the underlying problem.
Biological features of the disease differ in the elderly, who more often than not, are more likely to present with an advanced or severe process than the younger patients. A variety of physiological alterations become manifest as the individuals age. These affect wound healing, oxygen delivery to tissues, immune function, nutritional status, digestion and absorption.
Many elderly patients are on more than one medication for the treatment of several ailments. Medical conditions can feature in the elderly patients not only as comorbidities, but also and as the major cause of complications following surgery. Emergency surgery is one of the most important factors influencing surgical outcomes in the elderly and hence risk assessment is essential to formulate a proper management strategy. It is important to decide what can be done to optimize the patients' condition for surgery.
One important challenge the clinician has to face is regarding the patient and his families' query about the effect of surgery on the patient's mental function, memory, cognition and intellect. The key here is good communication. The ultimate aim of surgery should be to achieve a lower morbidity and mortality rate and preservation of quality of life.
Recognition of preoperative markers – fraility, disability and comorbidity are widely recognized to predict the surgical outcome. Fraility is defined as a state of reduced physiologic reserve which lowers resistance to stressors. A patient who has unintentional weight loss, general feeling of exhaustion, weakness, slow walking speed, and low levels of physical activity is considered to be frail. Disability is defined as difficulty or dependence in one or more activities of daily living. A programme of nutritional supplementation prior to surgery may enhance postoperative recovery.
Major surgery is associated with a rise in oxygen requirement. The elderly patient who has a limited cardio-respiratory reserve may be unable to increase the cardiac output and oxygen delivery in order to meet the oxygen debt in the postoperative period. Postoperative pneumonia is the commonest complication in the postoperative period and all necessary precautions should be exercised to avoid this complication.
Post-operative delirium – a state of confusion after surgery, can interfere with the recovery of the elderly patient and is likely to prolong their hospitalization. Limiting the depth of sedation safely cuts the risk of delirium by 50%. Sleep deficiency is another risk factor for postoperative delirium , which should be prevented. Some other factors potentially contributing to a confusional state in the elderly patients are infection, hypoxia, or abnormal fluid and electrolyte balance.
Recent medical advances have improved surgical outcome in the elderly patients. Better delivery of anesthesia using better instruments and improved techniques, better patient selection and better perioperative cardiac care have all enabled complex procedures being undertaken for the elderly patients. It is unwise to defer surgery on the basis of age alone as an unnecessary delay may result in aggravation of the underlying problem. This may ultimately necessitate an urgent procedure which may have an unfavourable outcome when compared to an elective surgical procedure, as in an emergency procedure the preoperative preparation of the patient may be compromised due to time constraints and the patient may not be in an optimal status before surgery.
Recovery following surgery in the elderly can be improved considerably by combining the use of newer techniques, newer technology, early mobilization, adequate pain relief and nutritional support. The patient and his family must become an integral part of the decision to treat, and their wishes and expectations must be respected. Good results depend on careful preoperative evaluation, balancing the risks and benefits of surgery. A twenty four hour recovery facility and intensive therapy unit bed should be available at all hospitals for these patients.
The writer, former Professor and Head, Department of General Surgery, PGI, is associated with Fortis Hospital, Mohali