This Above all
Games politicians play
Khushwant Singh

NO one likes the war of words that has re-erupted over Belgaum. The Boundary Commission must have taken into consideration the pros and cons of the language issue before allotting it to Karnataka. There is nothing to stop Maharashtrian children to go to Marathi schools. There is no discrimination against their getting jobs. But mischief-makers will make issues when there is a chance to keep them in the news. The Thackerays and their Sainiks think little besides making a nuisance of themselves, simply to draw media attention.
First they drove out Tamilians in small businesses out of Mumbai. Then they drove out Biharis, Uttar Pradeshis and Oriyas. Now they plan to target Kannadigas. There seems to be no one to stop their goondagardi.
Allow me to make a few observations about the fate of languages that politicians exploit for ensuring their victory in elections. They pretend to love their mother tongues but send their own children to English medium schools. Better knowledge of English assures jobs and opportunities for higher learning in India and abroad. Language purists are the worst enemies of their own mother tongues. Examples I have often quoted are when train compartments carried warnings in Devanagri, reading Dhoomra paan nishedh and Yatra mein madira paan karna verjit hai.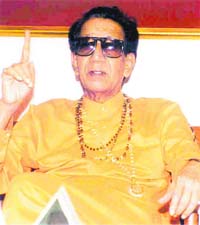 Bal Thackeray and his followers think little besides making a nuisance of themselves, simply to draw media attention
Few people understood what they meant. This was the reason why Hindi, which is the most widely spoken language in the country, has failed to become the link language. Our link language is English.
Another glaring example of politicians misusing language for their selfish ends is from Punjab. When census was being prepared, the BJP exhorted all Punjabi Hindus to declare Hindi as their mother tongue. It was largely due to Parkash Singh Badalís vigorous campaign that they told the truth, and a huge chunk of Ferozepore stayed in Punjab.
A conclusive example of the damage language purists can do is the predominance of English and Spanish.
Neither the French nor the Spaniards accepted words from other languages. English, on the other hand, stole words from all languages to enrich itself ó it has over 10,000 words of Indian origin ó and is today the most widely spoken language in the world.
We Indians speak it better than other people whose mother tongue it is not, and score over them in securing jobs. The only example I can think of people changing their mother tongue is of the Jews. They spoke the language of their country in which they lived. They evolved a common lingo called Yiddish. It has a literature of its own.
A novel by an American, Isaac Bashevis Singer, in Yiddish won the Nobel Prize for Literature. Then the Jews decided to revive Hebrew to make it the national language of their own state Israel. Today all Jews speak and write Hebrew.
FIFA fallout
Three nuns were attending a FIFA match in Africa. Three men were sitting directly behind. Because they were partially blocking the view, the men decided to badger the nuns, hoping that they would get annoyed enough to move to another area.
In a very loud voice, the first guy said: "I think I am going to move to Sydney. There are only 100 nuns living there." Then the second guy spoke up, and said: "I want to go to Tasmania. There are only 50 nuns living there." The third guy said: "I want to go to New Zealand. There are only 25 nuns living there."
One the nuns turned around, looked at the men, and in a very sweet and calm voice said: "Why donít you go to hell? There arenít any nuns there."
(Courtesy: Vipin Buckshey, Delhi)
Indian police
A policemanís son fared badly in his half-yearly test. The father was very angry, and was going to thrash him, when the boy took out a Rs 50 note from his pocket and said: "Take it dad, and let the matter end here."
(Contributed by Kuldip Salil, Delhi)