Punjabi Antenna
Focus on floods
Randeep Wadehra

LAST fortnight one came across three interviews on television that provided us glimpses into the lives and thought processes of three contrasting personalities; naturally, the conversational styles varied, too. Dr Satish Narula on Tirchchi Nazar epitomised the ideal of knowledge wedded to humility. Widely known in the region as Dr Green and Green Guru, Narula talked of his early life and his father's dream of getting him educated at Punjab Agricultural University, Ludhiana.
The details of various prestigious projects handled by him were impressive enough but what really endeared him to the listeners was his modesty. Baljit Balli, known for his non-intrusive interviewing style, did not interrupt the flow of the narrative unless really required.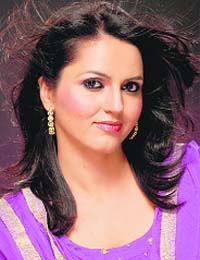 Charming anchor Baljit Johal (above) seemed subdued while interviewing singer Raj Kakra
In contrast we had another Baljit with the surname Johal on Pindaan Vichon Pind. In two episodes, she interviewed Sunita Dhir and Raj Kakra, respectively. As usual, Baljit Johal started with a couplet, and then introduced Dhir — a filmstar and theatre personality known for her leading role in the hit Punjabi movie Chann Pardesi. Her smiling visage couldn't hide the struggles and pain in her life. She had joined theatre over the objections of her mother. Dhir's marriage and subsequent family responsibilities kept her away from theatre. However, her husband's death made her reconsider her decision to stay away from theatre. Like everybody else, Dhir, too, acknowledged Punjabi theatre's status as a perennial Cinderella, but she pointed out that theatre had provided some very good creative talent, including actors, to cinema and television.
In the second interview Raj Kakra — lyricist and singer — came across as a man passionate about his vocation. His confidence in his craft and his rather overweening pride in his achievements did not jar. Instead, his transparent honesty endeared him to the listeners. Now, Johal — who was ebullient in the company of Dhir — seemed quite a bit subdued while conversing with Kakra. Gone was her trademark wah-wah raised-hand — part Punjabi, part Lakhnavi — gesture, and the tendency to come up with a cogent verse in praise of the featured artiste. Was this deliberate, or was the anchor in awe of Kakra?
The recent floods in the region have provided more than enough grist to the mills of our news-based talk shows. Both Khabarsaar and Masle brought in the region's politicians and retired civil servants/technocrats and thinkers to have a look at the reasons behind this unusual phenomenon. "Unusual" because the rains have not been so heavy as to warrant such destruction. So, more than the natural causes, the manmade ones have proved to be real culprits; lack of maintenance caused the breaches that have led to the floods. But other factors were discussed too; the harnessing of Ghaggar's waters, for example.
According to experts, the building of smaller dams across the tributaries wouldn't cost more than Rs. 200 crore each, and would prove beneficial to agriculture and be economically feasible, rewarding and eco-friendly, breaking the vicious circle of floods-and-droughts in the bargain. But, who listens?