SET TO SIZZLE
An imaginative set is as much an integral part of good programming as the script and acting. Hence, television producers are digging deep into their pockets for elaborate set designs, writes Neerja Bahadur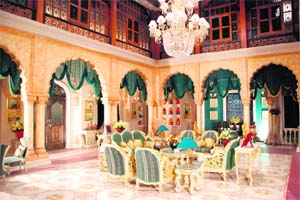 Every channel is demanding tastefully done-up sets, leaving producers with no choice but to spend liberally on this hitherto neglected aspect of TV programmes Photo courtesy: Imagine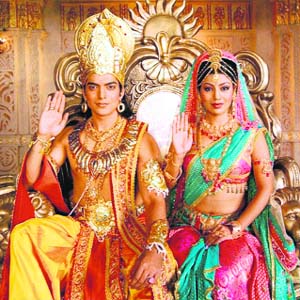 A set that involves a lot of detailing can cost anything between Rs 10 lakh and Rs 20 lakh


Designing goes digital
Thanks to computers, storyboards sketches will soon become a thing of the past. Set designing is fast turning into a digital art with special effects being created on monitors. Once the sole preserve of Hollywood, digitally produced set designs are fast becoming commonplace in television and films, thanks to IT professionals and creative animators.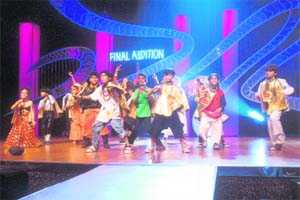 Set designers have been elevated to the status of art directors, who can make or mar a programme


Setting the trend
Nitin Desai is one of the most successful television and film set designers, who created the sets of Kaun Banega Crorepati,
Big Boss and Jhansi Ki Rani in his 52-acre ND Studio in Navi Mumbai. Though Desai has done countless serials, after he did the designing for Slumdog Millionaire, he is so much in demand in films that he has become selective about work on television. Sets of serials like Chittod Ki Rani Padmini Ka Johur, Bajirao Mastani and the historic TV series, Taj Mahal, have also been created by Desai.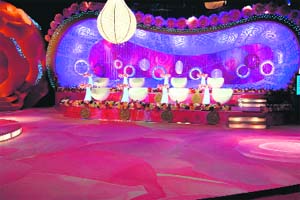 Despite the glamour and big money-earning potential, the profession has its own hurdles. For instance, there are constraints of space to effectively fabricate and ideally put up the whole set before it moves into the studio
HOW times change. Back in the 1980s, a suite in a five-star hotel could pass off as a prosperous household setting for a family serial. But there was only one caveat. Such an elaborate set came at a price tag of around Rs 5,000 or more a day — a sum that only a handful of producers could afford.
Then came Ramanand Sagar's hugely successful Ramayana. Its gripping storyline, characterisation and energy mesmerised the entire nation. But the riveting mythological series lacked a vital element — ornate sets. The appeal was somewhat diminished by its garish costumes and amateur settings. Though Sagar continued to make super-hit religious serials like Uttara Ramayana, Shri Krishna and Jai Ganga Maiya, he, apparently, did not believe that sets could enhance the value of epics, which had a strong storyline.
But B. R. Chopra thought differently. When he launched Mahabharat, he hired a team of top professionals to do the sets in as credible a way as possible. Sketches were made of all-important situations in the serial and a thorough research was conducted for the interiors of houses and palaces and for the backdrops of battlefields. In fact, no expense was spared to give the serial an edge of authenticity. And the results were there for all to see — Mahabharat went on to smash all viewership records and changed the way people watched TV shows.
Ever since then, set designers have been elevated to the status of art directors, who can make or mar a serial with their sets. Vishal Jain, a serial producer, puts it aptly when he says, "A good set is something that enormously adds to the appeal of a show but you seldom notice it."
Megabuck sets
Today, producers are paying megabucks for elaborate sets that have given a new dimension to shows and serials like The Sword of Tipu Sultan, Kaun Banega Crorepati, Indian Idol, etc.
Ask anyone why he or she liked a particular TV show, and you would get a variety of answers ranging from a good storyline to powerful performances or even great photography. But not a word about the great sets. Pity. Because an imaginative set is as much a part and parcel of good programming as the script and acting.
Since television is a visual medium, every show — from a serial to a musical countdown and from a newsbased programme to a chat show — requires the vital inputs of a good set designer.
"There is no serial or show, which does not involve a design component," says Mumbai-based set designer Vishal Mehta. "These days, sets are made in a way they can easily be taken down and stored and then put back because all episodes won't be shot in one spell."
Lavish designs
In these fiercely competitive times, when every channel is vying for the numero uno position, a welldesigned set assumes great importance. Producers, worried about TRP ratings, are digging deep into their pockets to spend on lavish sets in a bid to heighten the effect of their shows.
Most of the sets are made to suit the content of the programme, says Varsha Jain, who is designer for serials like Laagi Tujh Se Lagan (Colors) and Daag. Incidentally, she is one of the very few women set designers in a profession dominated by men, and has studied fine arts in New York with a special course in theatrical set design.
Another name to reckon with in the profession is that of Omung Kumar, who has designed sets for such hit serials as Guzaarish and Chance Pe Dance. He has now become a big name in films as well, with Saawariya, Black and Ishq Vishk in his kitty. He says Bollywood films and Indian TV shows have some of the most elaborate and creative sets in the world.
What exactly are the basic requirements of set designing? "A designer has to be very imaginative. He has to comprehend a show completely before constructing a set," says Vishal Mehta. "You have to know things like the movement of the story, the choreography and how many people are there in one particular show. Then comes the technical aspect like how much space is there and what kind of material is to be used. A set designer is very close to an architect."
Art of conceptualising
A designer's work begins at the inception stage of a programme. It is an art of conceptualisation. During story sessions, his imagination starts ticking. He breaks the show into scenes and details down each set usually on a drawing board. Most set designers make sketches of each scene. "Unless you do this exercise, you'll never be able to make good sets," says Mehta.
Good lighting, too, plays a major role. Although it may not affect the actual design, it can certainly enhance the look of a set.
What kind of costs are involved in making a set? According to Mehta, if a producer wants to spend the minimum and doesn't value the artistic look of the programme, it could be done under a lakh of rupees. "But a swank set involves a lot of detailing and can cost anything between Rs 10 lakh and Rs 20 lakh."
Professional hazards
But despite the glamour and big money-earning potential, the profession has its own hurdles. For example, there are constraints of space to effectively fabricate and ideally put up the whole set before it moves into the studio. "It is a mad race against time to get it up and ready," says Mehta, and adds, "Sometimes when a designer is not given enough time, then he or she starts cutting corners, and that's when tensions arise."
The other important aspect of the profession is to understand the producer's mind. Once everything is discussed, the designer should be left alone so that he can create a good set. "A producer must understand that he's hired a professional and should not interfere in his job after the initial ground rules have been laid down," says Mehta.
Though interference is a part of the occupational hazards, now with the channel wars hotting up, producers have started realising the paramount role of a set designer. Every channel is demanding tastefully done-up sets and shows like Kaun Banega Crorepati, Big Boss and Indian Idol and have set new benchmarks, leaving producers with no choice but to spend liberally on this hitherto neglected aspect of TV programmes. — NF