Delivering strong social messages is the USP of short animation flicks being produced in the city


Cute ugly Shrek, smart Stuart Little or pompous Tom, each has won millions of hearts across the world. Animated characters strike a familiarity with people as much as real actors do, courtesy, the creator. With dime a dozen animation schools opening in out tricity, which offer courses in 2D and 3D, we check out what's our city producing.


Eat like an Egyptian
Pop group Bangles taught us how to walk like an Egyptian, now Bristol Resort is telling us how to eat like one!
Who says one needs to travel far and wide to enjoy exotic cuisines? Thanks to some of the city restaurants and their willingness to experiment, we have the luxury of enjoying a global buffet. Not just the food but the ambience and the cultural zing too.
Drink to idiocracy
The next time you appear for a job interview, make sure you order just a glass of water and not beer or wine, for you could appear less intelligent — says a new study. It's not because you could get tipsy from a single glass of merlot; rather it's what the researchers label the "imbibing idiot bias." "People think that drinking in moderation is safe because it will not impair their thinking.
Go for garlic
Got a penchant for the pungent? Then try a garlic festival. Travel website VirtualTourist.com offers its picks for the World's Top 5 Garlic Festivals. Gilroy Garlic Festival; Gilroy, California: Visitors can attest that the scent of garlic is in the air before you even get off the freeway.
Brawn-y point
First, Shah Rukh enticed the fans with his six-pack abs and then Mr Perfectionist Aamir Khan was not far behind. He zip zapped on the screen with his eight-pack abs. Female fans wowed on this feat; men called up the gyms to secure a lifetime membership. But Amrinder Singh (20), a student from DAV-10, did not take fancy to anything.


Cotton counter
Cotton Fab is back again, with a plethora of dresses, jewellery, home furnishings and some handicrafts as well. Bright terracotta flowerpots, corners, idols of Ganesha, Radha Krishna as well as pretty tablas that double up as stools, welcome you to the exhibition.
Lace work from Tamilnadu — Photo: Pradeep Tewari
Charged up!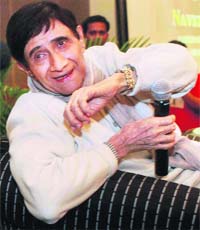 Bollywood actor Dev Anand interacts with the media at the announcement of his new film Chargesheet in Mumbai recently. PTI photo
Literary musings
Hailed as the first literary exponent of Indian peasantry, Munshi Prem Chand, who was also a crusader for the cause of Dalits and women, will be remembered as a great author," opines Sharda Rathore, chief parliamentary secretary, Haryana. She joined the literary fraternity from the tricity in paying rich tributes to the legend on his 131st birth anniversary at a seminar organised by the Haryana Sahitya Akademi at Haryana Niwas on Friday.
Celebrate friendship
Score, Sector-8
'F'ship Eve' with DJ Cherry
Couples Entry only @ Rs. 1500
On July 31
Timings: 9 pm onwards
Friends Forever Bash with DJ Cherry
Couples Entry only @ Rs. 1000.
On August 1
Timings: 1pm onwards & later on 9pm onwards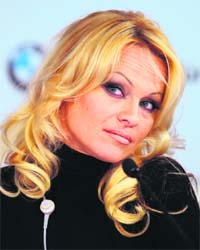 Finally a kiss!
Neil Nitin Mukesh, the virgin on-screen kisser finally locks lips with Deepika Padukone in Lafange Parindey
Deepika Padukone has kissed Saif Ali Khan on screen, but her new co-star Neil Nitin Mukesh was a virgin kisser on camera. The conservative actor had no choice but to succumb to a liplock for Yashraj Films' "Lafange Parindey".
Fur-fetched!
Pamela Anderson calls Janet Jackson 'greedy'
Hollywood bombshell Pamela Anderson has publicly called out pop star Janet Jackson for signing on as the new face for luxury fur label Blackglama.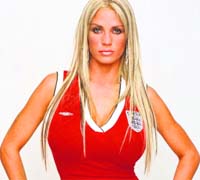 Happy in Paradise
Katie Price, aka Jordan, is all set to take over the number one spot in the Sunday Times Bestseller list, with her new novel Paradise. The former glamour model's fifth novel, the final instalment in her Angel trilogy, will go straight in at number one for hardback fiction, outselling the number two book by two copies to one, said her publisher, Random House. Katie, who chooses the plots for her books, penned by ghost-writer Rebecca Farnworth, said: "I think it's brilliant that it's number one.
Say cheese
Hollywood actor Jessica Biel has revealed she is addicted to cheese. The A-Team actor sticks to a strict diet and exercise regime when she is shooting her movies, which means she has to go without the calorific dairy delight, much to her annoyance.
Tokens of love
This Friendship Day, gift a cuddly teddy, a cool coffee mug, a picture frame or support a colourful band to celebrate the spirit of friendship
Pink teddy: Rs 1,600
Catchy colourful band: Rs 39
Friends forever coffee mug:
Rs 250
Rock solid, pick up a band:
Rs 65
Classy frame:
Rs 199
— Compiled by Mona
Photos: Pradeep Tewari
(Location courtesy: Dewsun-11, Jewels-11)