ART & LITERATURE
'ART & SOUL
ENTERTAINMENT
TELEVISION
GARDEN LIFE
NATURE
FOOD TALK
CONSUMER, BEWARE!
FASHION
GLOBOSCOPE
BRIDGE
ULTA-PULTA
EARLIER FEATURE
TRAVEL
RELATIONSHIPS
DREAM THEME
TIME OFF

Casting 'coach' !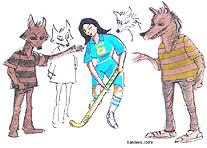 M.S. Unnikrishnan
The recent sex scandal to hit Indian hockey is merely the tip of the iceberg
THE casting couch has always existed in Indian sports, though it takes an occasional whistle blower like woman hockey player Ranjitha Devi to take the lid off this demeaning practice. She accused chief coach of the Indian women's hockey team Maharaj Kishan Kaushik (since resigned/sacked) of harassing her with explicit sexual requests and verbal sex talks.


All in the game
Chetna Keer Banerjee
When director Shimit Amin made Chak De! India some years back, little must he have known that Indian hockey would later furnish some real scenes deserving of a possible reel sequel, Chuck De India! Given the stick-y
wicket that Indian women's hockey has gotten into recently ... this title in technicolour would certainly be quite telling.
Needed, a zero-tolerance approach
Aruti Nayar
THE need for a law to check sexual harassment at the workplace is talked about only when an incident occurs that grabs eyeballs, as in the recent much-publicised case pertaining to the alleged victimisation of the members of the women's hockey team by the coach.
---
Symbol of faith
Turban stands for courage and self-respect for a Sikh. During the two World Wars, turbaned Sikh soldiers, who fought as part of the British Indian Army, refused to wear steel helmets, writes Major-Gen Kulwant Singh (retd)
D

URING

World Wars 1 and 11, 83,055 Sikh soldiers laid down their lives, and 1,09,045 were wounded while fighting as part of British Indian Army. All of them wore turbans without exception, refusing to wear steel helmets, despite the protection these offered.

Temple city of India
Hugh and Colleen Gantzer visit Madurai, the 4th century city, with a living heritage
IT is a town built around a temple, rising out of a legend. Deep in the heart of southern India, the ancient, bustling, town of Madurai is the epitome of Dravidian culture. This vibrant town, dating back to at least the 4th century BC, draws its resilient strength from the great temple that throbs in its heart.

Walk for a cause
As many as 1550 people, particularly of Indian origin, took part in Sevathon 2010 supporting many causes, which was held recently in California, writes Asha Sharma
SAN Francisco's Bay Area Indians gathered together recently for a unique event — Sevathon, Indian version of the popular American Walk-a-thon and deriving its name from the Hindi word 'seva' for service.

Anandi's journey
As a mature heroine has taken over after the time-leap in Balika Vadhu, will the tear-jerker be able to retain its TRPs? Asks V. Gangadhar
A 'historic' moment in the history of Indian television as viewers of Colours TV channel kept buckets ready to collect the continuing gush of tears, the excitement became unbearable.

From the realm of the mind
The crisis of conscience has been the muse around which stories of many films have been woven, writes M. L. Dhawan
FILMmAKERs have explored the elusive mind of their protagonists time and again in their films. They revelled in various opportunities of drama and emotion caused by the conflict within the mind of a protagonist.

Girls get going
Aisha is one of those rare Bollywood projects where women seem to have called the shots for every little thing, writes Radhika Bhirani
PRODUCER, director, screenplay writer, lead actor... Aisha is one of those rare Bollywood projects where women seem to have called the shots for every little thing.