Walk for a cause
As many as 1550 people, particularly of Indian origin, took part in Sevathon 2010 supporting
many causes, which was held recently in California, writes Asha Sharma

SAN Francisco's Bay Area Indians gathered together recently for a unique event — Sevathon, Indian version of the popular American Walk-a-thon and deriving its name from the Hindi word 'seva' for service. The event brought together more than 40 Indian non-profit organisations working for different causes.
Starting early in the morning, an unprecedented 1,550 people ran a half marathon, or walked 10 km or 5 km for causes they supported at the local Baylands Park in Sunnyvale, California.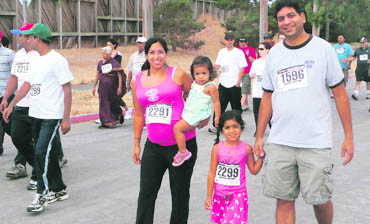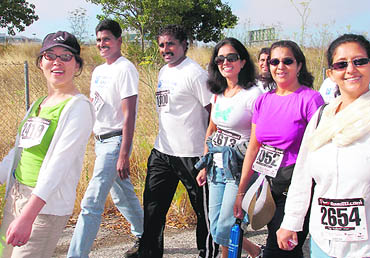 Participants included people of all ages and backgrounds attired
in varying outfits, from the traditional to the modern. Besides
a majority of Indian-origin participants, there were several
non-Indians, too

The event was flagged off with volunteers carrying a custom-made gold-plated torch to the walking track amid the chanting of Ram-dhun. An eye-catching photograph of Mahatma Gandhi marching with his walking stick with the words, "He walked for Freedom. What are you Walking For," on display and printed on the Sevathon T-shirts was clearly an inspiration for the event.
Participants included people of all ages and backgrounds attired in varying outfits, from traditional to modern. While a majority of participants were of Indian origin, there were a significant number of non-Indians, too. In addition to the participants, there were at least another 1000 people present for the event.
The causes they supported were many — some well-known like the Sankara Eye Foundation, India Literacy Project, Pratham etc. and some lesser-known like the Asian American Donor Program (AADP) that is looking for potential marrow/stem cell donors to save lives of individuals of multi-ethnic descent, including Indians.
The event was organised by the India Community Center (ICC) of Milpitas together with the support of several Bay area non-profit organisations. With its mission "Unite, Serve, Celebrate," the ICC brought together people from various traditions and religions. The Sevathon was a dream come true for ICC founders Anil and Gautam Godwani, who started the organisation in 2002.
The ICC, with 14 other partners, organised their first Sevathon in October 2009. It was a small event but the 158 spirited walkers did indeed leave their mark making the pilot Sevathon, a ground-breaking one, sowing the seeds for future triumphs.
This year's Sevathon made a quantum leap from last year. According to Raju Reddy, ICC board member and co-chairman of Sevathon 2010, "This year's event certainly caught the interest of our community like never before and together we made history by bringing together the largest gathering of its kind here in North America, all devoted to the Gandhian message of Seva," he said.
Describing the efforts that went into making the event a success, development director of the ICC and coordinator of the event, Kabir Kumar said, "More than 200 volunteers were galvanised to put together the event."
According to Kabir, "It is a great achievement. Last year, we proved the concept, this year we proved the scalability."
Vishnu Sharma, former associate executive director of the ICC, who started the Community Partners Program that helped to bring the community together, was thrilled`A0with the success of the Sevathon.
"This is the change we have been waiting for, involvement of a large number of Indians, from different parts of the country, committed to various causes working together under one umbrella." Special invitee Ash Kalra, a councillor from San Jose, was delighted with the work being done by Indians.
"These organisations, some of them very small, are doing amazing work but few know about them," said Kailash Joshi, trustee, Foundation for Excellence and co-founder and former President of TiE.
"The Sevathon has given them the kind of exposure which they could have never had. With such an event people now know about the work that is being done in different fields in various parts of India. So duplication can be avoided and funds and energy are saved."
While some Indian organisations like Sankara Eye Foundation and India Literacy Project have held walk-a-thons in the past for most of the other organisations, Sevathon was the first experience of walking for a cause.
The participating organisations included among others the Sankara Eye Foundation, India Literacy Project, Pratham, One School at a Time, Foundation for Excellence, Narika, Maitri, Bay Area Telugu Association, Akshaya Patra, Indians for Collective Action etc.
While the concerns of majority of organisations were educating and feeding schoolchildren in India, there were others like Jeena, which helps children with developmental disorders and also their families. Founder of Jeena, Rajni Madan was happy that the children of her organisation could participate in the Sevathon.
"We need to build awareness about development disabilities, what they are, what challenges the child faces and what are his emotional needs. We also need to address the needs of the families," she said.
A striking feature of the Sevathon was the involvement of second generation Indians in community projects. While many young children walked with their parents or grandparents, the presence of youngsters at the booths was very encouraging. Many of them were high school students whose parents were involved with one of the participating non-profit organisations.
The emphasis on health was clear from the number of health-related organisations present at the event —- a total of eight. Prominent among these was the South Asian Heart Center, a wing of the El Camino Hospital.
The Center is helping South Asians prevent and fight heart disease by encouraging healthy lifestyles and early detection of problems.
While most organisations were working with projects back in India, some like Maitri, Narika and Dildisha are concerned with issues affecting women in California —- domestic violence, emotional abuse, cultural alienation, human trafficking or family conflict.
While there were beautiful cultural presentations, food fair and games, at the end of the day the Sevathon was not about fun and food or trivia but it was all about the human spirit, a showcase of what people can do for those less fortunate than themselves. It was evident that the message is going home and the Indian community is indeed ready to move in a new direction in this distant land.