M A I N N E W S
PC backs Omar
Puts onus on violent protesters in Valley
Faraz Ahmad
Tribune News Service
New Delhi, August 4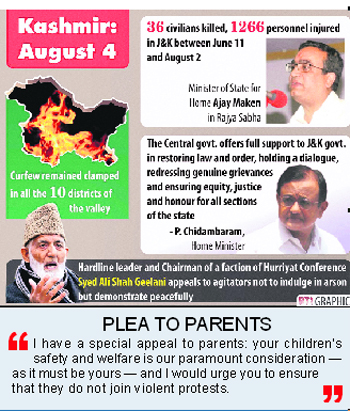 The Central Government today strongly backed a beleaguered Jammu and Kashmir Chief Minister Omar Abdullah with Home Minister P Chidambram stating , "The Central Government endorses his (Abdullah's) appeal and sincerely hopes that the cycle of violence will come to an end immediately."
Making a statement on Jammu and Kashmir in response to a request by BJP parliamentary party chairman L.K. Advani, the Home Minister virtually absolved the Chief Minister of any blame and instead put the onus directly on the violent protesters in the valley.
Ignoring the criticism of the Chief Minister from several quarters, including the PDP and the BJP, Chidambaram said: "The Chief Minister appealed to the people of Jammu and Kashmir to put an end to the cycle of violence and maintain peace."
Going a step further, he asked parents in Jammu and Kashmir to restrain their children from stone-pelting on security forces. He said, "I have a special appeal to parents: your children's safety and welfare is our paramount consideration — as it must be yours — and I would urge you to ensure that they do not join violent protests.
Finally in a veiled warning to the J&K protesters, the Home Minister said: "Mindless violence and destruction of public property will not yield any solution. On the contrary, they will result in loss of lives and injuries to the protesters, an outcome that is entirely avoidable and that should be avoided at all costs.
While asserting that the Central Government offered its full support to the state government, he declared, "The people of Jammu and Kashmir have elected a government and they must repose faith in that government."
He backed Abdullah, saying: "The Government of Jammu and Kashmir is actively considering a number of political and administrative measures that will help restore normalcy in thestate." He, however, added that "the current cycle of violence would have to end before he can take the initiative in this regard."
The Home Minister also complimented the security forces for acting with "commendable restraint" in Jammu and Kashmir.
While deeply regretting "the loss of lives in Jammu and Kashmir" and stating that "many of them were young men and children," the Home Minister also maintained that "there have been instances where the security forces have been fired upon by someone in the protesting crowds." "There is reliable intelligence that some armed militants may have mingled with the crowds and fired at the security forces," he added.
He said while the security forces had been advised to deal with the crowds in a restrained manner, the relentless stone-pelting and the danger of police stations and police outposts being overrun have compelled the security forces to take action both in self-defence and in order to protect public property.
The Home Minister also assured the House that "there are adequate forces available to the government of Jammu and Kashmir."