PUNJAB
HARYANA
JAMMU & KASHMIR
HIMACHAL
REGIONAL BRIEFS
NATION
OPINIONS
LETTERS
BUSINESS
SPORTS
WORLD
Saturday, August 7, 2010, Chandigarh, India
Updated at 3:00 am (IST)

112 dead in Leh flash floods
Leh/Srinagar/New Delhi, August 6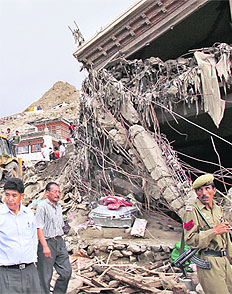 A cloudburst past midnight followed by flash floods and mudslides caught residents, many of them fast asleep, napping around 2 am last night. Some were washed away and many were seriously injured. The death toll rose to 112 (according to PTI) by late evening and hundreds more, among them Army, police and paramilitary personnel, were said to be missing.

A collapsed house after flash floods in Leh on Friday. — Reuters

Nation page: 33 jawans missing

Omar visits Leh, 2 crore ex gratia announced
CAST YOUR VOTE
Should Warren Anderson be extradited?

EDUCATION
JOBS & CAREERS
HEALTH & FITNESS
SCIENCE & TECHNOLOGY
REAL ESTATE
SPORTS & WELLNESS
Govt ready for CBI probe into Games
New Delhi, August 6


The government today said it was willing to ask the CBI to look into charges of irregularities by state agencies involved in Commonwealth Games projects and accused the Opposition of projecting incorrect figures on the expenditure incurred for the mega event.
No question of resigning: Kalmadi


New Delhi, August 6
Cornered Commonwealth Games Organising Committee chairman Suresh Kalmadi today refused to step down despite wide-scale corruption allegations against OC, insisting that he might consider such a move only after the event if asked to by the Prime Minister.

CWG Organising Committee chairman Suresh Kalmadi at a press conference in New Delhi on Friday. A Tribune photograph

Games row rocks LS, Oppn wants answers from PM
New Delhi, August 6
Corruption in the organisation of the forthcoming Commonwealth Games today rocked the Lok Sabha as a united Opposition cornered the government for unaccounted spending of public money and sought answers from Prime Minister Manmohan Singh who was not present.
UNION BUDGET 2010-11
RAILWAY BUDGET
2010-11

NDA 60 Glorious Years
1857 The First Challenge
E - Revolution 2005:
A Two-day IT conclave
Assembly Elections - 2005
Turbans
Chandigarh is 50
125 Years of The Tribune
India: The Tasks Ahead
India at Sixty
A Tribune Supplement
EARLIER FEATURES
On Sundays
On Saturdays
India wins flu drug patent battle against China
New Delhi, August 6
India has won a crucial patent dispute against China for treating influenza and epidemic fever through medicinal formulations using 'pudina' (mint) and 'kalamegha' (andrographis), the Lok Sabha was informed on Friday. Minister of State for Health and Family Welfare S. Gandhiselvan said Chinese pharmaceutical company Livzon Pharmaceutical Group Inc, Guangdong, had filed a patent application with the European Patent Office (EPO).
No decision to decontrol sugar: Pawar
New Delhi, August 6
The government today said it had not taken any decision to decontrol sugar pricing and remove the sweetener from purview of the Essential Commodities Act.
(Details on Business page)

US sees Al-Qaida as biggest security threat
The Al-Qaida's core in Pakistan and its affiliates in Africa remain the biggest threat to the United States of America, according to a new US government report.
(Details on World page)

Chopper crew member falls to death
Guwahati, August 6
A crew member of an airborne helicopter died after he fell through the chopper door that had opened all of a sudden few minutes after take off from Namsai helipad in Lohit district of Arunachal Pradesh today.
Today's specials
AMRITSAR PLUS

J&K PLUS

REAL ESTATE

SPORTS & WELLNESS

SATURDAY EXTRA

Clean-up begins, 3 officials suspended
August 6, 2010
PC backs Omar
August 5, 2010
Kalmadi feels the heat
August 4, 2010
No talks without peace, Omar to Valley hardliners
August 3, 2010
Valley bleeds as eight die in fresh clashes; over 60 hurt
August 2, 2010
Flood alert in Haryana again
August 1, 2010
Ready to talk with all Valley groups: PC
July 31, 2010
Make the border more secure, pleads Punjab
July 30, 2010
British PM ticks off Pak on terror export
July 29, 2010
Showdown over price rise
July 28, 2010
MPs panel sees police hand
July 27, 2010