Good Motoring
Signboards that confuse you
H. Kishie Singh


H. Kishie Singh

It is a common sight on Chandigarh roads to see drivers of cars with out-of-town licence plates asking for directions, either from the police or passersby. Why? They canít make sense of the huge road signs that are found along Madhya Marg. They seem to be in a code for the benefit of Chandigarhians only.
I request such motorists to stop and ask for directions, instead of depending on the cityís confusing signboards. These seem to have been written by kindergarten dropouts, and defy comprehension. The accompanying photograph is at the entry point to Chandigarh on NH 21 from Zirakpur. Does it make sense? The world today is crowded with well versed, well travelled and educated people. They judge people by their body language, dress, the way they conduct themselves and the way they speak. What would be a personís first impressions of our City Beautiful as he enters the city and reads a sign board in gibberish? Advertisements on roadsides are banned in Chandigarh. Shortly after the "glow the inside light" sign, a signboard comes up, massive in proportion, complete with graphics. "Rajiv Gandhi Technology Park," it proclaims. The dimensions and graphics cannot allow it to be considered a road sign. It is an advertisement.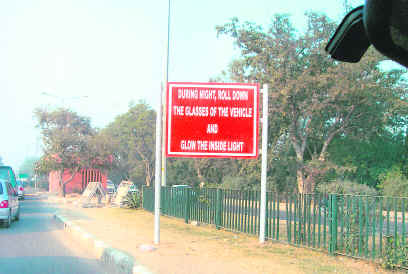 Junction 28, the rotary at the crossing of Sectors 18-19-20, carries an ad. It is an anti-malaria campaign. Very noble, but it is in contravention of the law. Chandigarhís architectural and heritage masterpieces ó the Capitol Complex, the High Court, the Secretariat ó hardly get any prominence on signboards. That amazing work of art, Nek Chandís Rock Garden, barely finds mention on the roads. Informatively, there is a colour, brown, reserved for indicating heritage buildings and tourist attractions. This colour is accepted internationally, just as signs on primary routes are on a green background, and signs on motorways (we say National Highways) are on a blue background.
These international norms of blue and green backgrounds are not followed on Indian roads. Chandigarh is an international city, thanks to Corbusier. It would only be fair to have the Rock Garden, the Art Museum and the Secretariat signs on a brown background. There is only one city like Chandigarh, and there is only one Rock Garden. May be someone with a drop of imagination, a drip of vision and a dash of creativity can design collective signs that are unique to Chandigarh.
Actually, we do have signs displayed collectively. They are found in abundance on Madhya Marg. They donít make sense. In that, they are unique. We could work on signs that highlight Chandigarhís heritage, clearly, proudly and succinctly.
Now comes the news that Chandigarh will have road signs in Punjabi. This can only lead to the amusement of motorists and tourists from other states. If the "glow the inside light" is any indication, the administration may reserve the right to charge an amusement tax.
There is another area where the administration has been busy. Building speedbreakers. They have sprouted all over the city in the last few weeks. Actually, they are rumble strips, not speedbreakers. A speedbreaker is one bump. Rumble strips are two or more. They are designed to destabilise vehicles. Watch a two-wheeler when it hits a rumble strip. The scooter will move in a zig-zag way across the road.
These rumble strips have come up in front of the Press Club entrance. They serve no purpose. It is the duty of the driver exiting from the Press Club to stop, look left and right, then join the main road. Why should a driver on the main road have to slow down to make way for a car that could be standing still at the exit gate of the Press Club?
The proper procedure to ensure safety at the club exit and other points would be to put up a "yield" sign for the motorist who makes his exit from the club. A "yield" sign is an inverted triangle in white with a red border. The procedure to be followed by the exiting driver is to stop, look, go. Why interrupt the free flowing traffic on the main road? Why are rumble strips and speedbreakers illegal in most countries ? The police is the first to object. A police Gypsy, on call, speeding past the entrance of the Press Club, and hitting four rumble strips, could bounce all over the road with dire consequences.
Another nuisance that drivers in the city are subjected to are chhabeels. They have come up on the main arteries and pose a danger to all road users. They are a major impediment to the flow of traffic. They cause accidents, and in their wake, leave a sea of plastic cups and plates on the roads. They are manned by over-enthusiastic sevadaars, who force traffic to stop, creating chaos. Surely, there is another way to celebrate rather than holding the drivers to ransom.
Happy motoring.
Driverís pick
A fuel tank leak can be temporarily fixed by plugging it with a chewing gum or rubbing a bar of soap on it