MUSIC ZONE
Saurabh & Gaurav
Sheryl Crow — 100 Miles From Memphis (A&M)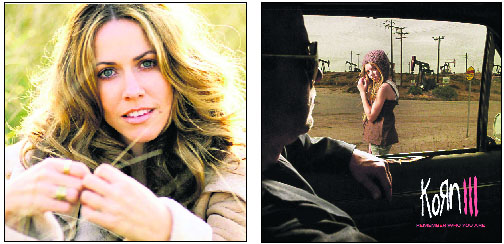 100 Miles from Memphis sees a shift in Sheryl Crow's approach, from country-tinged singer-songwriter to blue-eyed soul diva. The album features Crow paying stylistic homage to the music she grew up listening to in Missouri. There's a notable smoothness to lead single Summer Day that is instantly pleasant and vibrant, while reggae-styled Eye to Eye, featuring Keith Richards, marks as one of Crow's trademarks as a writer. Say What You Want also impresses as one of her mildest political songs, balancing the fury of its lyrics, "You've got a lot of nerve to talk that way/Someone unplug the microphone", with a laidback acoustic harmony that flows into a sing-along refrain. Justin Timberlake does a bit of background vocals on Terence Trent D'Arby's mid-tempo track, Sign Your Name. Here, Crow sings "Sign your name across my heart. I want you to be my baby", while guiding Timberlake to fade into the background, and managing to highlight his neo-soul tenor at every twist. Beautiful ballad Stop, a Shelby Lynne-style showstopper, features one of Crow's most expressive recent vocals, and the temperamental Roses and Moonlight tantalisingly showcases her immense interest in blues. On the bonus track Crow, who was a former backup singer for Michael Jackson, travels from Memphis to Motown to pay tribute to her late boss with a vibrant cover of the Jackson 5's I Want You Back.
Best track: Sign Your Name
Worst track: Sideways
Rating ***
Korn — Korn III: Remember Who You Are (Roadrunner)
Korn are back to their original best, screaming and lurching around, to proudly regain their position. They return to producer Ross Robinson, who manned the boards for their first two platters, Korn and Life is Peachy. Working with Robinson again and titling their album as such suggests that the band is returning to its roots, and to a degree, it is. Korn III has the richness and intensity that many long-time fans have missed. Ranging from the demented laughing and fierce alternative-metal structure of Never Again all the way to the mosh worthy chorus of Pop A Pill. The most rounded track of the album though is Are You Ready To Live? It has a ferocious slap-bass that only Fieldy can provide, backed up by the hearty, beat-led torment that we know and love. Ray Luzier proves to be a worthy replacement to David Silveria behind the drum kit, as his performance here proves to be memorable and precise. Vocalist Jonathan Davis's screams on songs like Lead The Parade and Fear Is A Place To Live haven't sounded this good since the 1990s. His crooning laughter on Not Around is downright chilling, and his performance on Holding All These Lies is possibly one of his best so far. Korn III is easily the equal of any of their first three classics and sees these freaks back off the leash again.
Best track: Are You Ready To Live
Worst track: Oildale (Leave Me Alone)
Rating **
Rick Ross — Teflon Don (Def Jam)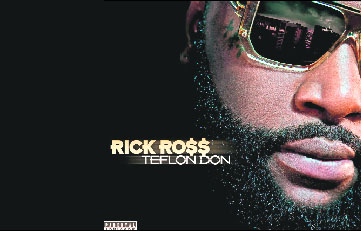 Teflon Don is Rick Ross' fourth solo album, and the one that establishes him as one of rap's most potent and creative forces. The album does nothing to derail his position, consisting of 11 immaculately produced and arranged tracks. Some of these songs, particularly those helmed by The J.U.S.T.I.C.E. League, are astoundingly verdant and musical. Sonically, the album is beautifully constructed, with West, No I.D., and the Inkredibles creating a symphonic grandeur to match Ross' elaborate delusions. The album starts off with I'm Not A Star with a beat that has a commanding organ and collapsing high-hats that instantly draws you into Rick's world. The Jay-Z assisted Free Mason does the job of keeping the listeners attention as Jay downplays devil-worship tales by being witty and clever with his lyrics. On Tears of Joy Ross enlists the vocal talents of Goodie Mob alum Cee-Lo and on Maybach Music III, Erykah Badu, T.I. and Jadakiss lend a verse. The tracks B.M.F and Super High featuring Ne-Yo sit well on the album despite having already featured on the Albert Anastasia EP.`A0 MC Hammer is a bombastic celebration of the rappers's good life, on which he boasts, "I got 30 cars, whole lotta dancers/ I take 'em everywhere/ I'm MC Hammer." No.1 which features appearances from Diddy and Trey Songz will more than likely find a place on a club DJ's heavy rotation. Offering plenty of color in between, songs like the R&B heavy Live Fast, Die Young featuring Kanye West and the blunt All The Money In The World featuring Raphael Saadiq show the spectrum that Ross is able build, all the while playing his role with perfection.
Best track: Free Mason
Worst track: Aston Martin Music
Rating ***
Konono No.1 — Assume Crash Position (Crammed Disc)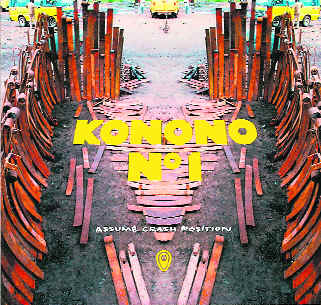 Kinshasa group Konono No.1 sticks to using handcrafted likemb (thumb pianos) and drums and amplifiers, still putting out the same brilliant Bazombo trance that first impressed listeners on 2005s Congotronics. Their sound system is built from handmade microphones, old car parts, megaphones and discarded amps, and they use junked auto pieces and pots and pans as percussion instruments. Now the premier music ambassadors have set a standard for modern world music, with their distortion-laden beat and trance music. The album's tracks are extended experiments in group dynamics, each allowing every aspect to swell and build on its own and in synergistic collaboration with its counterparts. The sole song to be titled in English, Thin Legs, is an excursion for vocals and rolling drums. Far more successful is the longer piece, Mama La Bana, which seem to embody this hip folk music of the people of Democratic Republic of Congo (DRC) in Central Africa. A nod to the ritual music that defines its village life, Konono No.1's tribal drums and repurposed junk objects inundate and hypnotise. This is especially true for the infectious Fula Fula, which is ultimately dwarfed by the band's preferred 11-minute expositions on traditional melodies, such as the supernatural Wumbanzanga, the deliciously organic Makembe and the hit track Konono Wa Wa Wa.
Best track: Makembe
Worst track: Guiyome