TELEPROMPT
This show will surely click
Mannika Chopra


Mannika Chopra
Take one unconcerned president of the Commonwealth Games Organising Committee, a bunch of MLAs, cutting across all party affiliations, willing to sell their votes so that certain people can get into the Rajya Sabha, and the home minister of a state, trying his best to avoid charges of an encounter killing, and you have the perfect ingredients of an original, homegrown reality show, called Indiaís Got Corruption.
Yes sirji, the show is there for all to see, and for all to get repulsed ó nationality not withstanding. TRPs are ensured because there is nothing more real and brutal than this reality show of political whodunit. It beats the new season of Indiaís Got Talent (Colors), and even the final leg of Americaís Got Talent (Star World). See how news channels are now following the misdemeanours of the CWG karta dhartas with all the instincts of media bloodhounds.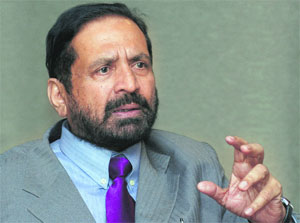 Suresh Kalmadi has denied that the cost of holding the games has gone up 17 times. He insists it has increased marginally

Times Now sent the indefatigable Navika Kumar to London to sniff the murky trail, while NDTVís Swati Maheshwari, now stationed in London, in a more sotto voce way, did the same. Also on NDTV 24x7, Barkha Dutt succeeded in getting Suresh Kalmadi for an extended studio interview. It was absolutely amazing how complacent the suspiciously black-bearded Kalmadi looked in the face of a litany of accusations.
Fortytwo persons have died during the course of the construction of CWG facilities, he was told. "Fortytwo?" questioned Kalmadi, without turning a hair, or even looking amazed, or distraught. "Yes, that should not have happened." As for the issue of cost overruns, Kalmadi denied that costs for holding the games had gone up 17 times. It was only two or three times, he insisted. When our neta didnít have an answer, he said he would get back with one. I doubt if there was one viewer who felt that Kalmadi had truth on his side. I only wish that Dutt had put more pressure on Kalmadi, pinning him down on the big picture rather on the exorbitant costs of ACs and washing machines.
This week also saw buzz being created on a succession of rebooted reality shows. Season two of Indiaís Got Talent Khoj 2 appeared once again ó same format but different judges. Kirron Kher and Sonali Bendre remain, but Shekhar Kapur has been replaced by actor/producer director/humorist Sajid Khan. Having seen the first episode, I donít know whether it is a wise switch. The craggy Kapur, despite his teary eyes, used to give wise and wonderful responses. As for Bendre, some things donít change like off-the-shoulder little black dresses.
I much prefer the sari-clad, so heavily-jewelled Kher. She probably goes shopping in heavy duty kanjeevarams and exotic baubles.
What we see is what she is. In the first episode of IGT, she was wearing a thick gold necklace that would have made a knight clad in his metallic armour shudder. Still, give her marks for originality. As for the talent show itself, it started slowly. But slow is not shorthand for bad; slow does not translate to mediocre; it simply means no adrenaline pumping.
Other rebooted reality shows imported into India include a fresh season of Kaun Banega Crorepati. The show, which will be telecast on Sony later this year, is being re-anchored by the Bachchan, Amitabh Bachchan, that is. Promos for participants are being aired every evening by the star. The Biggest B may have defined the show in its first season, way back in 1990, and in the process also himself, but it is unlikely he will continue to have the same impact.
Other celeb anchors have come and gone, and the novelty of having stars on the small screen is wearing off. No doubt Sony is hoping that this new version will spike its flagging fortunes. Indian Idol has certainly not attracted the same kind of viewership and interest it did earlier. But only time will tell.
Time certainly told on Rahul Mahajanís dulhaniya Dimpy. I hate saying "I told you so." Actually, I lie, I love saying it. What were Dimpyís parents thinking when they allowed her to marry Mahajan Jr., especially since his first marriage had floundered because of domestic violence in the reality show Rahul Dulhaniya Le Jayega. What is amazing is that Dimpy, after having whined to the television cameras that Rahul beat her for not showing a text message, is back with him, demurely visiting temples, very much in the media eye. At what price? Fifteen seconds of fame? May be the show should have been called Rahul Dulhaniya Ko Mardega..